Homeschooling in Connecticut: The Requirements You Need to Know
Just so you know, this post contains affiliate links. That means if you use them to make a purchase, I may earn a commission. You can read my full affiliate disclosure HERE.
Are you going to be homeschooling in Connecticut? Learn about the homeschool law and what's required of you, so you can set yourself up for success!
Homeschooling, in Connecticut, is the default mode of instruction.
Connecticut is blessed because, as one of the original colonies, its homeschooling law dates back to 1650, before public schools. The first line of the governing statute, Section 10-184, provides that the responsibility for education lies with parents, who "shall bring them up in some lawful and honest employment and instruct them…". 
Only if a parent is not homeschooling must they comply with the next portion of the statute that states they must send their children to public (or private) school.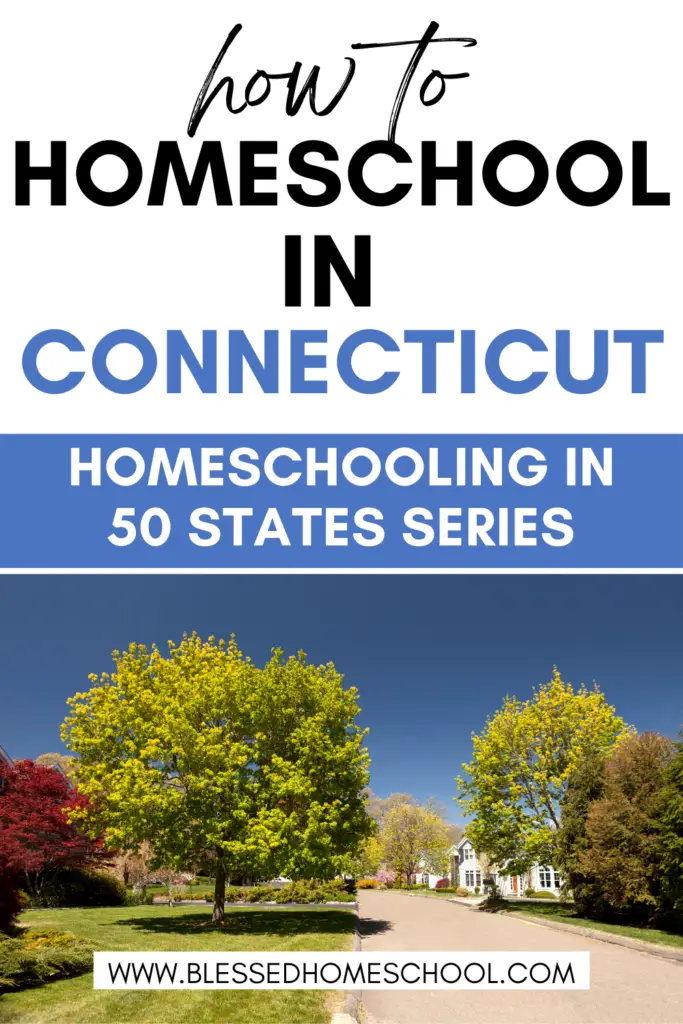 Homeschooling in Connecticut: The Law
Notice of Intent and Portfolio Review Not Mandatory
As the result of a threat of regulation in the early 1990's, the State Department of Education Commissioner drafted suggested procedures that include the filing of a Notice of Intent and a Portfolio Review.  These provisions are not mandatory.
Required Subjects to Teach in Connecticut
Required subjects are included in the first line of Section 10-184: parents are to instruct their kids in reading, writing, spelling, English grammar, geography, arithmetic and United States history, and in citizenship, including a study of the town, state, and federal governments. There is no requirement that all subjects be taught each year.

Recommended Letter of Withdrawal
Parents who withdraw their children from public school should submit a letter to the Superintendent of Schools of their town or district, via certified, return receipt mail.  This provides a receipt to show that the parent notified the school of withdrawal. 
Optionally, you can also hand deliver a letter, asking for a signed and dated photocopy so you have evidence of delivery.  The letter can be short, simply notifying the school that you are withdrawing your child. 
The letter need not be sent to the Board of Education, although if you are on good terms with the school, you may choose to notify the school directly.
Minimum Age Requirements for Homeschooling in Connecticut
If a child has never enrolled in public school, there is no need to notify the school of the intent to homeschool unless you choose to file a Notice of Intent.
If a child has been enrolled, or you haven't decided if you will enroll them, and your child is age 5 or 6, you can file an Opt-Out form with the school.  In order to Opt-Out, you personally appear at the school district office and complete the form. NOTE: The Opt-Out form is different from the Notice of Intent.  If you go to the office to opt out, make sure you are provided with the Opt-Out form, and not the Notice of Intent. 
The parent of a child who is 17 may withdraw the child from public school as explained above.

Time, Assessment, and Graduation Requirements are Not Specified
There are no requirement of the number of days or hours of instruction when homeschooling in Connecticut.  No standardized testing is required. There are no graduation requirements.  Each parent determines their child's graduation requirements and may issue their own diploma and transcript. Obtaining a GED is not necessary.
It is important to keep records of attendance, grades and curriculum.  There are numerous resources available to prepare a transcript for a college-bound student.  It is also helpful to keep a record of the curriculum used. 
Homeschooling in Connecticut: Parent Requirements
Connecticut law does not impose any level of experience or education on parents who instruct their own children.
Vaccination Requirements
Vaccinations are not required for homeschool students, although some summer camps require vaccination.  Connecticut still recognizes medical and religious exemptions to vaccination.
Special Education
Public schools are not required to provide homeschool students with special education services.  Some schools may choose to provide services to a child identified as having special needs.
Public School Involvement
Public schools are not required to permit part-time enrollment or enrichment activities.  The Connecticut Interscholastic Athletic Conference prohibits the participation of homeschool students in public school sports.
Alright homeschool moms and dads! Now that you are aware of the laws and requirements for homeschooling in Connecticut, I want to hear from you! What are some of your favorite field trip spots? What are some Connecticut homeschool organizations you love? Drop a comment below!
And if you'd love to have a printable resource to use to keep track of state homeschool requirements, key organizations, activities and field trip plans, and curriculum notes, grab a copy of my Curriculum & Activity Planner below (it's free!):
Interested in learning about homeschooling in another state? Check out the Homeschooling in 50 States Series.
Pam Lucashu is the Legislative Assistant and Board Member of TEACH CT, The Education Association of Christian Homeschoolers of CT.  She is a graduated homeschool mom of three adult children.  Pam has volunteered with TEACH CT since 2013, using her legal background to help preserve homeschool liberties.  In 2015 she worked with other homeschool and parent groups to form the Connecticut Parental Rights Coalition in response to the Sandy Hook Advisory Commission Report recommendations mandating continuing special education for special needs students who homeschool.
As a representative of the Coalition, she was also part of a working group of the Connecticut Alliance for Privacy in Education (http://www.cape4kids.org/).   In 2016, she testified on what would become the CT Student Data Privacy Act (https://www.cga.ct.gov/2016/ACT/pa/2016PA-00189-R00HB-05469-PA.htm) .
Pam continues to  communicate with homeschoolers and state leaders to advocate for homeschool freedom in Connecticut.
Related Posts
Blessed Homeschool is a participant in the Amazon Services LLC Associates Program, an affiliate advertising program designed to provide a means for sites to earn advertising fees by advertising and linking to Amazon.com. You can read my full affiliate disclosure HERE.