Homeschooling in Maine: Key Resources for a Successful Year
Just so you know, this post contains affiliate links. That means if you use them to make a purchase, I may earn a commission. You can read my full affiliate disclosure HERE.
Homeschooling in Maine is actually easier than you might think.  Even though it is a "moderate regulation" state by HSLDA standards, I have found over the years that we are able to have a wonderful homeschooling career here! 
I have written extensively about the requirements to homeschool in Maine here including links to sample letters and other helpful information, but let's go through an overview of what is required.
Notice of Intent
The first thing that you need to know when homeschooling in Maine is that we are a notification state, not an approval state.  What this means is that we are notifying the state and our specific school district that we are homeschooling, we are not asking for permission to homeschool.  It can get confusing, especially if you have moved from another state where you do have to be approved to homeschool, or have your curriculum plans approved.  
Within 10 days of beginning a home instruction program in Maine, you are required to send a notice of intent letter to both your local superintendent's office and the Maine Department of Education.  This tells the state and your district that you are homeschooling.  You only need to send in a notice of intent if your child is of compulsory age.  In Maine, that is 6-17.  So, if your child has turned 6, you need to get in your notice of intent, even if it is in the middle of the school year.  
This is a confusing aspect to homeschooling in Maine, but necessary!  The only exception would be if your child turns 6 right at the end of the school year or during the summer when there wouldn't be a chance for your child to be enrolled in another schooling option in Maine.  At that point, you can wait until the 9/1 deadline for subsequent year homeschool paperwork.

Maine Homeschool Requirements
Once you send in your notice of intent, you are ready to start homeschooling in Maine.  However, there are a couple of requirements that you need to follow to make sure you are within the Maine homeschool statute.
The first requirement is that you do 175 home instruction days.  There is nothing in the Maine homeschool statute that defines what a home instruction day, nor are we required to log a specific number of hours.  I always recommend that you choose what will define a home instruction day, but as long as you keep track of the days that you are learning, you will be fine.
This information does not get submitted to the state or your local district, but it is something you need to keep record of.
The next requirement is the list of subjects you must teach.  Those subjects are:
English
Math
Science
Social Studies
Physical Education
Health Education
Library Skills
Fine Arts
In at least one grade from 6-12, Maine Studies
At one grade level from 7-12, the student will demonstrate proficiency in computers
The key with these required subjects is that how, what, and even how long you teach each subject is up to you.  The Maine homeschool statute requires that you make progress in each of these subjects, but progress is very individualized.  For example, if your child starts off the homeschool year not knowing multiplication tables, but by the end of the year they have them memorized, this would be progress.  This may seem like a very small amount of progress, or it could seem like a huge feat that you are undertaking – it depends on your child.  
This is one of the best freedoms about homeschooling in general, and more specifically in Maine.  You get to create a completely individualized education for your child.

End of Year Assessments
This brings us to the last part of our homeschooling in Maine puzzle, end of year assessments.  There are several options available to homeschoolers in Maine.  However, the most popular two are a teacher review with a Maine certified teacher or having your student take a nationally normed standardized test.
The purpose of the teacher review is to show the progress of your individual student from the beginning of your homeschool year to the end of the homeschool year in the required subject areas.  There are a lot of different ways that you can show this progress.  You could do a traditional portfolio with samples from the beginning, middle, and end of the school year.  Some other options include pictures, summaries of what you studied, field trip logs, book lists, samples of works, project descriptions and pictures, video, etc.  And how these are presented can be all manner of options.  I know people who will create a private facebook group and upload information throughout the year, then give a teacher access to the group to do the review.  There are people that use blogs, scrapbooks, video; the sky is really the limit.
The main point to remember is that you are having a conversation with a teacher about your entire year, think of it as that.  It doesn't have to be scary at all, even though I know most first-time homeschoolers, or even new Maine homeschoolers tend to be worried the most about this aspect of homeschooling in Maine.
Your other option is to have your student take a standardized test.  Tests like CAT, IOWA, Stanford 10, and NWEA are all accepted.
Once you have your end of year assessment done, your next step is to send in your subsequent year homeschool letter WITH the results of your end of year assessment – either a copy of the letter your teacher reviewer will give you stating progress made, or proof of completing the standardized test.  Again, you can find links to sample letters to use in the link at the top of this post.
Final Thoughts
We are in our 12th year homeschooling in Maine, and we have really enjoyed the flexibility that homeschooling in Maine provides.  If you would like more information about homeschooling in Maine, or need a little extra help, I offer homeschool coaching to many homeschoolers in Maine.  You can set up a session with me HERE.  Another great resource for help and encouragement is the Maine Homeschool Network private Facebook group.
Let me know in the comments: are you homeschooling in Maine? What are your favorite tools and resources? What advice would you give other homeschooling parents? I'd love to hear!
And if you'd love to have a printable resource to use to keep track of state homeschool requirements, key organizations, activities and field trip plans, and curriculum notes, grab a copy of my Curriculum & Activity Planner below (it's free!):
Interested in learning about homeschooling in another state? Check out the Homeschooling in 50 States Series.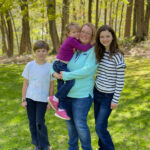 Heather is a homeschooling mom of three kids; elementary, middle, and high school age, in her 12th year of homeschooling.  She is the owner and author behind Townsend House where she helps you implement systems and strategies in order to overcome the chaos and Cultivate Simplicity in your Home & Homeschool.
Related Posts
Blessed Homeschool is a participant in the Amazon Services LLC Associates Program, an affiliate advertising program designed to provide a means for sites to earn advertising fees by advertising and linking to Amazon.com. You can read my full affiliate disclosure HERE.