How to Avoid 4 Common Homeschool Transcript Mistakes
Just so you know, this post contains affiliate links. That means if you use them to make a purchase, I may earn a commission. You can read my full affiliate disclosure HERE.
You don't have to be overwhelmed thinking about creating a homeschool transcript. Here's what you want to include, what to avoid, and a handy tool to make the process a breeze.
Homeschool mama, think of all the hats you've worn over the years: curriculum coordinator, lesson planner, teacher, counselor, lunch lady, bus driver. There are so many responsibilities we take on (and conquer!), and yet as our kids approach high school, one more responsibility looms over us that has the ability to terrify even the most seasoned homeschool parent:
Creating a homeschool transcript.
This task is a mystery to many parents. What is a homeschool transcript & why do my kids need one? How am I supposed to make a homeschool transcript (and send it to colleges)? And what if I mess this up and my kid gets rejected from every school and job they apply for?
First of all, rest assured that won't happen.
Anticipating creating a homeschool transcript might cause some anxiety, but I promise it's not as hard as you think. And there are some great tools out there to help you get through this (and you might even enjoy it)!
** This is a sponsored post. I received this product or compensation for review purposes only and was compensated for my time. I was neither asked nor required to share a positive review; all opinions are my own. READ HERE for more information.
Let's tackle some of these questions together. While we're at it, we'll touch on a few common homeschool transcript mistakes to avoid, and one solution that will help you achieve homeschool transcript perfection.
What is a homeschool transcript?
Maybe you were like me: I went to a public school and hardly ever gave a second thought to my transcript. I knew, though, that it was a record of my grades, the courses I took, and showed that I met the requirements to graduate.
That's exactly what a homeschool transcript is, too. It's a document that should reflect your child's homeschool high school journey, highlighting what they studied and what they achieved academically.
I like to think of the homeschool transcript as "proof" that shows your child met the requirements to graduate from your homeschool.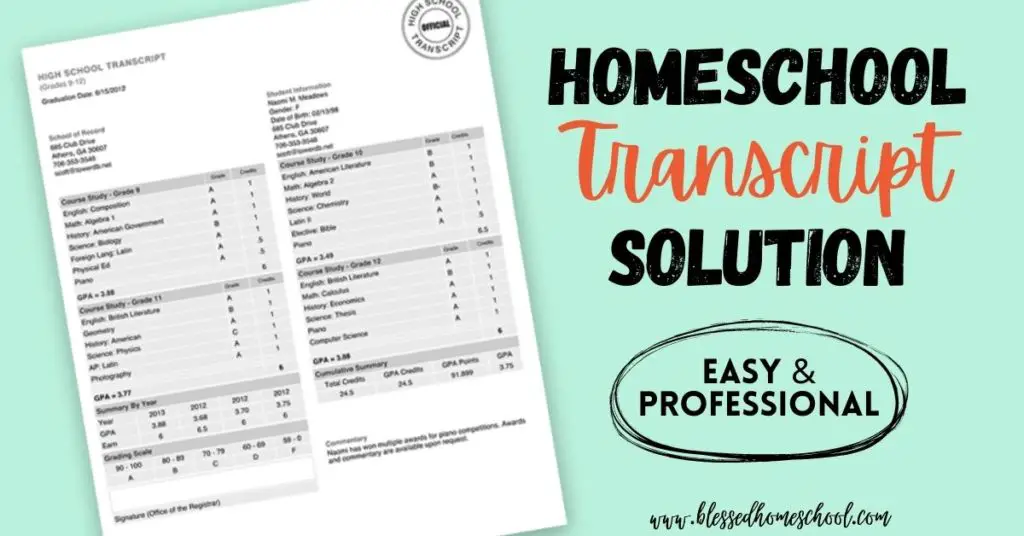 On a typical transcript, you'll state the name of each high school course taken, the grade that was earned, each year's GPA (grade point average) and the cumulative GPA, and credit hours earned. Some transcripts may also include awards earned, standardized test scores, or volunteer work completed.
Do my kids need one?
In almost all situations: yes.
If your child knows they would like to attend college, the answer is definitely yes. Pretty much all colleges will require a transcript when they apply, and many scholarships might, too.
And if your child doesn't think they will attend college? Yes, they should still have a homeschool transcript document created for them.
I absolutely think that college is not the right choice for everyone right out of high school, but you also (unfortunately) can not predict the future. For example, my job now is nothing like what I thought it would be when I was in high school. Things can definitely change…and in the chance that your kids might need a transcript in the future, you might as well put it together when you are in the thick of things.
Also, sometimes transcripts are needed for more than just college and scholarship applications. Some internships or jobs might require a homeschool transcript, so that's another great reason you'll want them to have one even if they might not intend to go to college.
Homeschool Transcript Mishaps
While creating your homeschool transcript isn't necessarily hard, here are four pitfalls you will want to make certain to avoid.
Mistake #1 – Letting yourself feel intimidated
Your first mistake might happen before you even begin: putting too much pressure on yourself!
Remember what we talked about earlier? You have already accomplished so much in your homeschool. And creating a homeschool transcript is one more thing you can do!
Stop any of the negative talk and worries that you might have. There is no need to be intimidated; you're simply going to be summarizing records you will be taking throughout your child's high school journey.
And if the public school system can do it – so can you!
Mistake #2 – Procrastinating
You blink and they're a freshman in high school. It might be hard to imagine, but graduation will be here before you know it.
So even though college seems far off, it's best to begin getting organized when your child enters 9th grade.
If you're not already, get in the habit of keeping good homeschool records like the names of the courses your kids are taking, the curriculum and resources used, hours spent on the course, and any extracurricular activities.
If your child does plan on attending college, you'll also want to research what requirements need to be met. This way, you can make sure to meet them and include them on the transcript.
A homeschool transcript software will easily help you keep track of these important records as you navigate the high school years, giving you one less thing to worry about.
And if you have procrastinated – refer back to mistake #1. You can still create a great homeschool transcript. Just get organized as soon as possible!
Mistake #3 – Presentation
A homeschool transcript is not the same as a homeschool portfolio, and it's not the place to share every detail of your student's high school achievements. You don't have to cram every single test score, activity, or award earned onto a transcript.
Although you want to be thorough, too much information can be a negative for the college admissions officer reading it. They go through tons of applications, so you want your transcript to be simple, easy to read, and most likely, just one page.
Fancy fonts and cluttered space are a no-no. Let the work your student has done be the focal point.
Mistake #4 – Calculation & other errors
Here's where some real-world math comes into play: teach your student how to calculate their GPA! (And then double check it, because you definitely don't want any calculation errors on the transcript).
I'm sure it goes without saying, but double and triple check your calculations. As you prepare for your high school years, make sure to settle on a grading scale and know how you plan to assign grades. As you go, you'll also want to determine if any classes will be weighted based on rigor, and how you'll assign credits.
If thinking about GPA calculations makes you a little queasy, never fear. You have options for programs that will handle this for you, making ongoing GPA calculation a breeze to report on your homeschool transcript.
Rest easy with this homeschool transcript solution
As with homeschooling in general, you have to find an option that works for you and your family.
Some parents love to put together the homeschool transcript themselves, using a spreadsheet or a printable guide.
But just because you can do it yourself, doesn't mean you should. Wouldn't it feel great to find a trusted companion to help lighten the load for you a bit during the high school years?
Fast Transcripts is used and trusted by over 26,000 homeschool families – and for good reason.
They will help you with all of the prep that goes into creating your homeschool transcript (including automated course names AND course descriptions!), and give you a polished, professional document you'll feel confident sending to prospective colleges for your son or daughter.
Fast Transcript's online record keeping system will take care of tracking your student's high school courses, and auto-calculate their yearly and cumulative GPA for you. Plus, they use a proprietary audit algorithm that catches any possible mistake you can imagine (which ensures you'll reach that homeschool transcript perfection!).
You'll even be able to send your transcript electronically to their network of over 4,000 colleges and universities via the Parchment platform.
Fast Transcript is a step above other homeschool transcript services. Go check them out with a 30 day free trial (no credit card required).
I'd love to hear from you in the comments: how do you feel about the homeschool transcript process? Do you have any tips for homeschool families beginning their high school journey?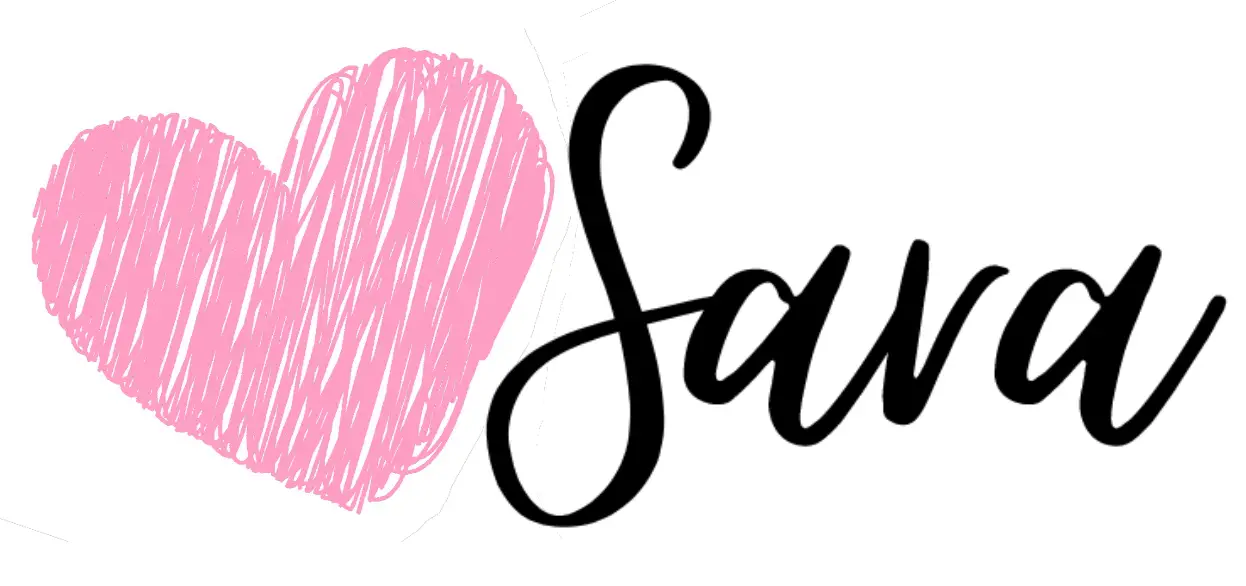 Related Posts
Blessed Homeschool is a participant in the Amazon Services LLC Associates Program, an affiliate advertising program designed to provide a means for sites to earn advertising fees by advertising and linking to Amazon.com. You can read my full affiliate disclosure HERE.