Homeschooling in Arizona: Laws, Resources, & More
Just so you know, this post contains affiliate links. That means if you use them to make a purchase, I may earn a commission. You can read my full affiliate disclosure HERE.
Are you homeschooling in Arizona? You've come to the right place! Learn all about Arizona homeschool requirements, key organizations to know about, and activities to try with your kids.
Arizona is a great state in which to homeschool. This low-regulation state offers tremendous freedom for families and a vibrant, active homeschool community providing many opportunities for friendship, support, and enrichment activities.
Homeschooling in Arizona is legally defined in state statute as nonpublic instruction provided primarily by the parent or guardian or nonpublic instruction provided in the child's home. Homeschooling is parent-led and privately funded.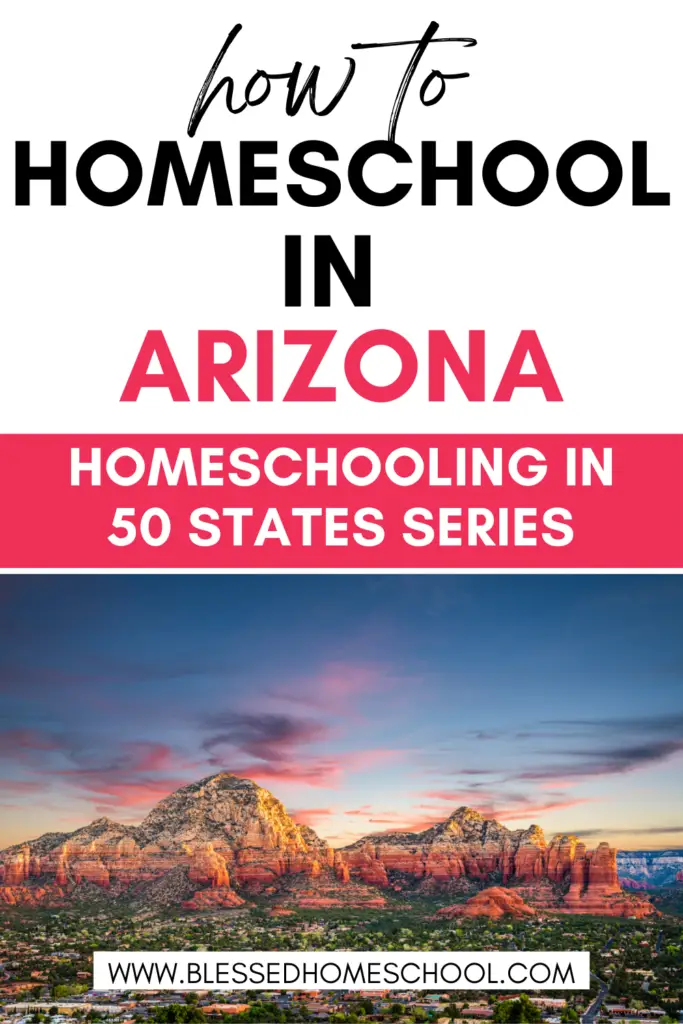 Arizona Homeschool Laws
Arizona is a notification-only state. This means that parents file a notarized Affidavit of Intent to Homeschool with the County School Superintendent's office one time (not annually) for each of their children who are between the ages of 6 and 16 along with proof of birth (a certified birth certificate is the most common form).
You'll find the Affidavit to download and print along with filing instructions at afhe.org/az-law.

What Do I Have to Teach?
The homeschooling parent is responsible for providing instruction in at least the subjects of reading, grammar, math, science, and social studies. The curriculum, what's covered for each subject, and the pace at which the material is covered are all up to the parent.
There are no reporting requirements, attendance tracking, or standardized testing requirements when homeschooling in Arizona.
Arizona Homeschool Graduation Requirements
The parent sets the graduation requirements and is responsible for creating their child's high school transcript and issuing a diploma. While not accredited, the parent-issued homeschool diploma and transcript are valid documents recognized as equivalent in Arizona state law. Homeschooled students go on to succeed in college, vocational education, the military, and the workforce.
In 2017 Arizona Families for Home Education (AFHE) shepherded a bill through the legislature, which was signed into law by the governor. With the passage of House Bill 2389, all state, county, city, and town agencies along with universities and community colleges in Arizona must now recognize a homeschool diploma accompanied by the parent-issued transcript in the same manner as other high school diplomas and transcripts.
No longer do homeschool graduates have to take the GED to apply for jobs as peace officers, childcare workers, cosmetologists, or other state licensed occupations. This is a significant victory for homeschoolers.

Homeschooling in Arizona Resources and Groups
Families who have chosen to homeschool in the Grand Canyon State will find many opportunities for enrichment and support. With well over 100 homeschool groups statewide, plus many local venues offering homeschool day events, there are myriad ways for families to find encouragement, friends, and supplementary activities to enhance the homeschool experience.
Quite a few businesses offering educator discount programs include homeschool parents, which can be a real help in stretching the budget.
Arizona Homeschool Activities
Arizona homeschool students are allowed to try out for sports at the local public school they would attend based on where they live. In addition, there are a number of opportunities within the homeschool community and the private sector for students including competitive athletics programs run by homeschoolers for homeschoolers, club ball organizations, and programs offered through city parks and recreation departments. Many local support groups offer park days and homeschool P.E. classes as well.
There is no shortage of supplementary activities for Arizona homeschool students from music and art classes to competitive STEM teams like robotics, Future City, Math Olympiad, homeschool proms, national homeschool honor society chapters, a high school graduation ceremony, and so much more.
What are Advantages of Homeschooling in Arizona?
Parents are able to tailor a course of study to their child's individual abilities, learning style, needs, and future goals.
The flexibility to customize the pace at which the child moves through material is beneficial for concept mastery.
The one-on-one tutorial style of learning is highly effective.
Parents choose the worldview through which their children are educated.
Learning together builds strong family relationships.
There is greater opportunity for character training. Parents have the ability to address character issues immediately and consistently.
Students often have more time to pursue areas of interest.
High school students can get a jumpstart on college education or career preparation.
Students who have special learning needs can get more personalized instruction.
There are abundant opportunities for healthy socialization with people of all ages in various settings as well as in the nurturing environment of home and family.
Happy Homeschooling in Arizona!
Homeschooling in Arizona is a great education option with much freedom for families to enjoy a rich, rewarding learning experience together!
For a list of homeschool groups in Arizona, venues hosting homeschool day events, educator discounts for homeschoolers, enrichment activities, and more, visit afhe.org.
I'd love to hear from you in the comments if you homeschool in Arizona: what are some of your favorite resources, field trips, and activities? Comment below!
And if you'd love to have a printable resource to use to keep track of state homeschool requirements, key organizations, activities and field trip plans, and curriculum notes, grab a copy of my Curriculum & Activity Planner below (it's free!):
Interested in learning about homeschooling in another state? Check out the Homeschooling in 50 States Series.
Nancy Manos taught her two daughters at home from preschool through high school. She and her husband served on the board of directors of AFHE (Arizona Families for Home Education) for 13 years until 2017 when Nancy stepped into the role of Executive Director. She is passionate about encouraging parents in the homeschool journey. AFHE is the statewide homeschool organization in Arizona, a nonprofit run by a volunteer board of directors that has been inspiring, promoting, and preserving home education since 1983.
Related Posts
Blessed Homeschool is a participant in the Amazon Services LLC Associates Program, an affiliate advertising program designed to provide a means for sites to earn advertising fees by advertising and linking to Amazon.com. You can read my full affiliate disclosure HERE.