Homeschooling in Maryland: Rules and Resources to Start Strong
Just so you know, this post contains affiliate links. That means if you use them to make a purchase, I may earn a commission. You can read my full affiliate disclosure HERE.
Homeschooling in Maryland? Once you understand your options, you can make the best choice for your family. Here's a look into the Maryland homeschool law, plus resources to get you started on the right track.
As a Maryland homeschooling parent, I was rather intimidated by the rules of the state. I'd first stumbled upon Home School Legal Defense Association (HSLDA) and researched the legal requirements for homeschooling in Maryland. I was concerned that it was one of the most restrictive states for homeschooling.
Once I saw the options broken down, though, it was easier to make a wise decision for us. Let's take a look at the law requirements for homeschooling in Maryland, and then dig into some other helpful resources.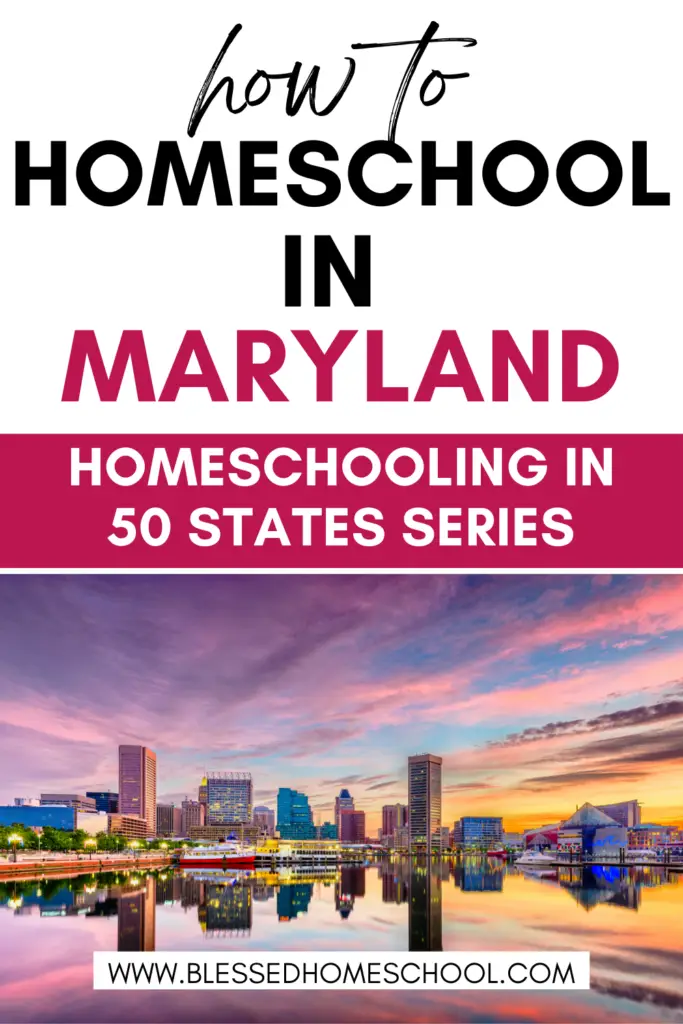 Homeschooling in Maryland: The Law
Notice of Consent
From age 5-18, children are under the compulsory attendance law and must begin attending school or begin homeschooling. When you begin homeschooling in Maryland, you'll need to contact the superintendent of schools for your county to notify them that you are planning to homeschool your child. You can see a list of Superintendents here.
You'll want to do this 15 days before you officially begin homeschooling. You can download the homeschool notification form here.

Portfolio Option or Umbrella School?
When homeschooling in Maryland, you have 4 options to choose from regarding how to run your homeschool.
Portfolio Option – You are required to teach math, English, social studies, science, art, music, health, and physical education, and provide regular, thorough instruction to your kids. You'll be expected to keep a homeschool portfolio of artifacts that demonstrate learning (such as writing samples, assessments, worksheets, etc.) and respond to requests by the Superintendent to review your portfolio.
Church Umbrella Option – Under this option, you'd join a church umbrella program which would supervise your instruction. Umbrella schools provide services to homeschooling families (usually for a fee) such as supervising instruction and help with transcripts and progress reports (although each school will vary in the services they offer). Umbrella schools in Maryland must be registered with the Department of Education, and you'll want to research them to find the best fit for you.
Church-Exempt School Umbrella Option – Similar to the church umbrella option, except you'll want to find a church-exempt umbrella school.
State-Approved School Umbrella Option – For this option, your local school needs to assign a school-based teacher to assist you and issue progress reports, and grade papers and tests.
You can find a detailed list of Umbrella School Programs for Maryland here.

Recordkeeping and Testing
If you choose the portfolio option, you'll be keeping all of your homeschool records yourself. If using an umbrella school, you'll have the convenience of that organization assisting with recordkeeping and issuing progress reports.
You have the option to access standardized testing from public schools, but it is not required that you administer them.
Homeschool Graduation Requirements
In Maryland, there are no specific graduation requirements since the state does not issue a high school diploma to homeschoolers. Therefore, you have the ability to choose the courses your child takes and how you'll assign credits.
You'll want to take into consideration any college requirements for a school your child might want to attend, and make sure those are covered on your transcript.
Resources for Homeschooling in Maryland
Maryland has many different counties. Each county supports homeschoolers differently. In Anne Arundel County where we used to live, there was a large amount of support from the school board who had one person that managed homeschoolers.
Unfortunately, as a homeschooling student, kids aren't allowed to participate in public school sports or extra-curricular activities. However, the superintendent will notify their homeschooling families of certain opportunities that will accommodate homeschooled students.
Maryland Homeschool Support Groups
Here is a list of some wonderful support groups for Maryland Homeschoolers:
Maryland Homeschool Co-Ops
Joining a homeschool co-op is a great way to meet other families, take enrichment classes, and team up for field trips and outings. This is not an exhaustive list of homeschool co-ops in Maryland, but a good place to begin your search:
My Experiences Homeschooling in Maryland
As a Maryland homeschooling family, we decided to homeschool using an Umbrella school. We searched the few offered and found one that was mostly hands off, but had quarterly events for the homeschooled kids and documentation training and review. Many Paths of Natural Learning accepted home educators that taught their kids in many ways. They acted as an advocate for many of us and provided a wealth of support for the small fee they charged. My kids got to participate in a graduation and other events sponsored by the Umbrella school.
I'd love to hear from you: do you homeschool in Maryland? Do you use an umbrella school or participate in a group or co-op? Let us know what your favorite resources are in the comments!
And if you'd love to have a printable resource to use to keep track of state homeschool requirements, key organizations, activities and field trip plans, and curriculum notes, grab a copy of my Curriculum & Activity Planner below (it's free!):
Interested in learning about homeschooling in another state? Check out the Homeschooling in 50 States Series.
Author of Homeschooling and Working While Raising Amazing Learners, LM Preston is an author, engineer, former college professor, and working mother who's been married for over twenty-five years. She homeschooled 3 of her 4 children from elementary school and beyond while she and her husband worked outside their home. Three of her kids graduated with degrees by the age of 17 years old.
Related Posts
Blessed Homeschool is a participant in the Amazon Services LLC Associates Program, an affiliate advertising program designed to provide a means for sites to earn advertising fees by advertising and linking to Amazon.com. You can read my full affiliate disclosure HERE.