Best Educational Podcasts Your Kids Will Love to Listen To
Do you use educational podcasts in your homeschool? Here's why you might want to start, plus a list of some favorites you can try with your kids.
Homeschooling is hard. Not only are you juggling the normal responsibilities of mom, or dad, you are also piling on all the requirements of teacher, mentor and educator. Layer teaching multiple grade levels at the same time on top of all that, and you've got your hands full!
There are some days when you just can't juggle it all. For those moments, using educational podcasts might help you stay sane while homeschooling. 
Why Use Educational Podcasts?
If you've never used educational podcasts for homeschooling, here are a few reasons why you might want to start:
Kids can learn directly from experts.
Let's face it, as homeschool parents we aren't experts in all the subjects. To make matters worse, finding quality books and resources can feel like a full time job in itself.
The beauty of podcasts is that kids can learn directly from experts in different subject areas and all we have to do is click subscribe. 
Screen-free way to keep your child occupied.
Sometimes you need a moment of peace and quiet to answer a phone call or just have a few minutes to yourself. When you are in desperate need of some silence, podcasts are more than happy to come to the rescue.
What I love about podcasts is that they not only hold kids' attention longer than a video but kids are also using their imaginations to stay engaged, just like they would if we were reading a book.
For homeschool families who don't have independent readers yet, podcasts are the perfect screen-free solution to keep your kids engaged and learning during those brief moments when you can't be by their side. 
Strengthens auditory learning skills. 
Active listening is a skill that our society struggles with. There is so much noise all around us that we've gotten really good at tuning it all out. Podcasts encourage you to tune in and pay attention. If you zone out, you miss it all. 
Ideally, while listening to a podcast, not only are you listening to the words coming through your headphones but you are also analyzing, imagining and thinking critically about the words you hear.
However, active listening takes practice. Mrs. B's beehive has a great podcast reflection tool for the early grades that will help kids get used to paying closer attention to the words they hear. This is an important skill for learning and for life. 
Great for kinesthetic learners (and energetic little boys).
The reality is that we aren't all the "sit still and learn" type of people. The beauty of homeschool is that all learning styles can flourish. If you are parenting kinesthetic learners, podcasts are an invaluable tool. Kids can throw on some headphones and run around the house while listening to the information. Your active child will likely retain even more than if he or she were forced to sit still during the same activity.
Movement releases dopamine in the brain, motivating your little learner and making the activity more fun. It also fills the brain with oxygen, which can help with memory and information retention.
Reinforce reading skills.
When English teacher Michael Godsey started using podcasts in his classroom he was amazed by how engaged his students were while listening. However, what surprised him even more was that they preferred to listen while reading the podcast transcript. With nothing more than a printer, you can turn listening to a podcast into an active reading activity. 
For beginning readers, listening has also been proven to help with decoding new words. Although an entire podcast transcript might be overwhelming for younger grades, you could pick a small, simple section of the podcast for your child to listen to while reading along.
Podcasts are always available.
Somedays school just doesn't happen as planned. Online classes and other live learning programs require you to take them on someone else's schedule.
Podcasts, on the other hand, are available for you whenever you need them. So, if you had a day that was heavy on everything else and light on learning, listening to a podcast is a great way to balance things out. 
4 Great Educational Podcasts for Elementary Kids
Now that you know you want to add some podcasts to your homeschool lessons you may be wondering where you can find these amazing podcasts. Kid Listen is a great place to look for high quality podcasts for kids.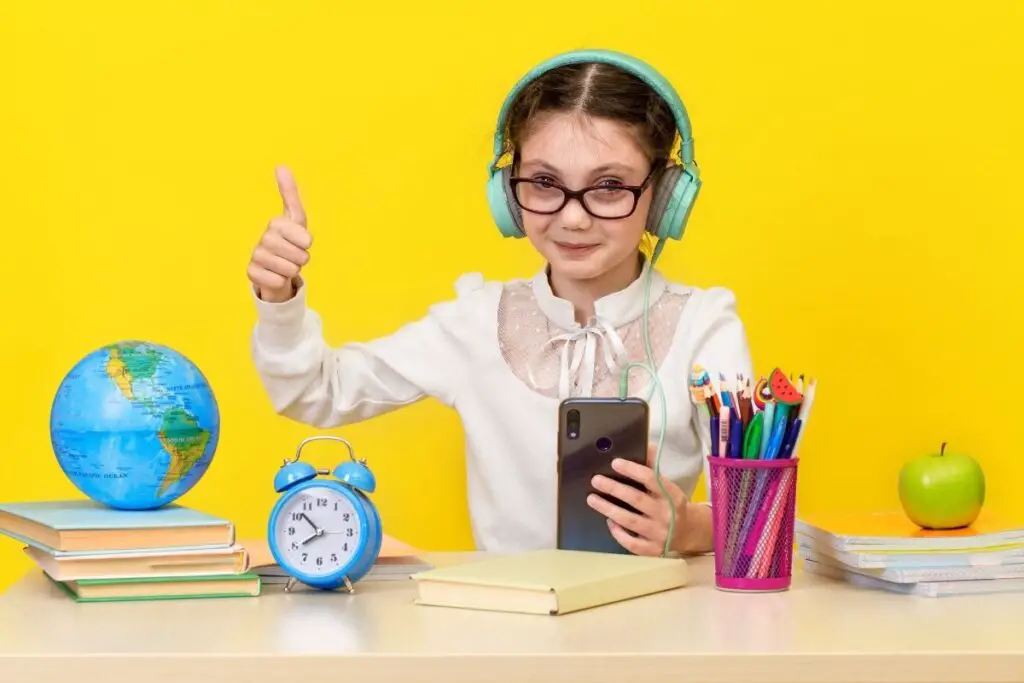 Within the app, or on the website, you can sort podcasts by subject or age. They even have a small list of strictly educational podcasts on Kid Listen University. Here are some wonderful, educational Kid Listen podcasts for elementary-aged kids: 
These hilarious podcasts are great for history and literature lessons. Their fractured fairy tales, which are silly retellings of famous fables, are full of fun jokes and puns but there is always a deeper meaning that inspires meaningful conversations and learning moments. 
Their hidden heroes of history episodes focus on change makers who you likely haven't heard about. They focus largely on telling the tales of heroic people of color who deserved much more time in the spotlight than they got. Each episode truly leaves you saying, "I can't believe I didn't know that!".
They also offer reflection tools specific to their two types of podcasts that you can download. 
You don't want to raise your kids in a bubble, but it is also very hard to find child appropriate news stories. Newsy Pooloozi addresses the issues in a kid-friendly way.
They often highlight wacky news stories that you never would have known about otherwise and use kid correspondents from around the world so that children can tell the tale from their own perspective. 
Engaging science books are hard to find. REACH will help you and your kids explore the galaxy and beyond.
They partner with leading institutions like the Adler Planetarium and Cosmosphere to give your family access to the experts. The podcast episodes even include at home experiment ideas which are great ways to keep learning fun and hands-on. 

Mindfulness is such a great skill for kids, and adults. However, it isn't something most of us grew up with. These fun breathing exercises and visualizations are a great addition to any homeschool routine. You can use them to calm everyone down in tense moments or add them to your regular routine to strengthen a mindfulness practice as a family.
---
You don't have to homeschool alone. Take advantage of high-quality, educational podcasts to give you an occasional break, lighten your load and help you stay sane while homeschooling.
Even though podcasts may give you some downtime, they are keeping your kids fully engaged and learning. Your kids are strengthening their active listening skills, learning from experts, and having fun. Try adding some of these great educational podcasts for elementary aged kids to your homeschool routine today. 
Leave a comment below: what are your kids' favorite educational podcasts to listen to?
Vanessa is an educational writer. Her website, Families Embracing Diversity, is a safe space for multicultural families to find reliable resources and a supportive community. When she isn't writing, you will likely find her on an outdoor adventure with her silly boys.