Latin for Beginners: Why We Love Memoria Press Latin Curriculum
Just so you know, this post contains affiliate links. That means if you use them to make a purchase, I may earn a commission. You can read my full affiliate disclosure HERE.
Learning Latin has many benefits for our kids! Are you looking for a great Latin for beginners curriculum for your homeschool? I share our favorite option and how you can use it with your own kids or in a homeschool co-op setting.
When we first began looking into the option of homeschooling, I remember visiting a local Classical Conversations session. I sat in on a class where students recited a long list of Latin declensions and conjugations. I was intrigued; I had never thought of Latin as something I would teach in our homeschool, nor did I see the value.
As I became more familiar with homeschooling methods and browsed my fair share of curriculum and homeschool conventions, I saw Latin was quite popular among homeschoolers. Being pretty ignorant of Latin myself, I wanted to know why I should consider teaching my kids this "dead" language.
Why Teach Your Kids Latin?
I began teaching Prima Latina in our homeschool co-op, kind of blindly. I figured it might give me a few extra "cool homeschool mom" points (I'm only halfway joking).
One of the things we did in that class was memorize the "Sanctus" Latin prayer. In Latin, "Sanctus" means "holy". Shortly after, my son was learning the memory verse John 17:17 ("Sanctify them by the truth; Your word is truth."). He recognized that "Sanctify" was a derivative of "Sanctus" and understood that the verse was talking about being made holy.
I started to see the value in what we were learning in those early days.
Here are some of the other benefits I have been pleasantly surprised with as we have studied Latin in our homeschool:
Latin helps our kids learn to think systematically.
Latin is a very systematic language. As we work through our lessons each week, my kids have to think through different word endings and grammar forms, apply rules with precision and really pay attention to detail. These are all great habits to instill in our kids – learning Latin can help!
Latin helps us with grammar and vocabulary.
I don't think I realized at first how much our grammar is based on Latin grammar. As we've been learning Latin, my kids and I understand more why we have certain grammar rules, and our Latin lessons have reinforced what we are learning in our English classes.
Plus, the Sanctus example above is just one of many Latin derivatives we have encountered since we began our studies. So many English words come from Latin, and it's been fun to see the vocabulary connections my kids can now make.
Latin helps us understand other languages.
Learning Latin helps us understand how other languages work. Many of the romance languages like French and Spanish have descended from Latin, so learning Latin can make it easier to learn other languages later on.
Learning Latin is fun.
It really is! We have a great time in our Latin co-op class each week, and working through translations at home is kind of like figuring out secret codes and messages. Plus, once my kids learned that many Harry Potter spells are derivatives of Latin words, they loved it even more.
This video is a bit on the long side, but, I love it and think it give a really great overview on these key benefits (and more) to learning Latin:
Latin for Beginners with Memoria Press Curriculum
This year we are using Latina Christiana from Memoria Press for our Latin curriculum. I have been really happy with it, and think it's a great option for those who are new to Latin.
Which Latin course should I start with?
There are two Latin for beginners options Memoria Press offers: Prima Latina and Latina Christiana.
Prima Latina is a more gentle introduction, geared for kids anywhere from 1st to 4th grade, that teaches a great mix of English grammar and beginning Latin. There is less vocabulary to memorize each week in this course. If your kids are still in the beginning stages of English grammar, this would be a great course to start with.
I first started teaching Latin in our homeschool co-op when my son was in third grade using Prima Latina, which is the level right before Latina Christiana. This year, my girls are in third grade and my son is in fourth; because I wanted them all to learn together, they began Latina Christiana with us (so they skipped Prima Latina).
So far so good – with Latina Christiana still being a beginning Latin course, I don't feel they were at any disadvantage not completing Prima Latina first. The biggest difference has been more vocabulary and grammar forms to memorize in this course, so keep that in mind.
Latina Christiana is designed for 3rd grade and above. I think this stage has been a great place to begin introducing Latin in our homeschool, because it has really complemented our English grammar work.
Why Memoria Press for Latin?
So why did I end up choosing Memoria Press for our Latin curriculum?
The courses are created by Cheryl Lowe, a homeschooling mom who realized the advantages of leaning Latin early on. Her resources have been used for years by families to successfully incorporate Latin into their own homeschools.
The lessons in Cheryl's curriculum are short, to the point, and super easy to follow. The teacher manual is pretty much open and go, which is also big bonus (the less prep I have to do, the better!).
What Comes with the Curriculum?
I purchased the Latina Christiana Complete Set so I would have all necessary materials. This set includes:
Student Workbook
Teacher Manual
Pronunciation CD
Vocabulary Flashcards
Instructional DVDs (the curriculum now also offers an online streaming option if you don't want to have to keep track of DVDs!)
I also purchased the Review Worksheets, and I think they have been a very helpful addition to our curriculum.
I use all of these components weekly, with the exception of the pronunciation CD, so I think the complete set is the best option price-wise.
Optional History Component Included
If your kids are interested in Roman heroes and history, there is an optional history and geography of Rome portion included in this text that is taken from Chapters 1-13 of Memoria Press's Famous Men of Rome.
We did not include this with our curriculum this year, but for some kids, learning about Rome's history and culture can be a great motivator to learn the Latin language.
I Don't Know Latin Myself…
That's totally ok! Neither did I, but like many things in our homeschool, I am enjoying learning alongside my kids.
Latina Christiana is designed just for parents and teachers who do not have a background in Latin. The teacher guides are very easy to follow (see my teacher manual below). You simply follow the steps in order, and it even gives you prompts so you know what to say.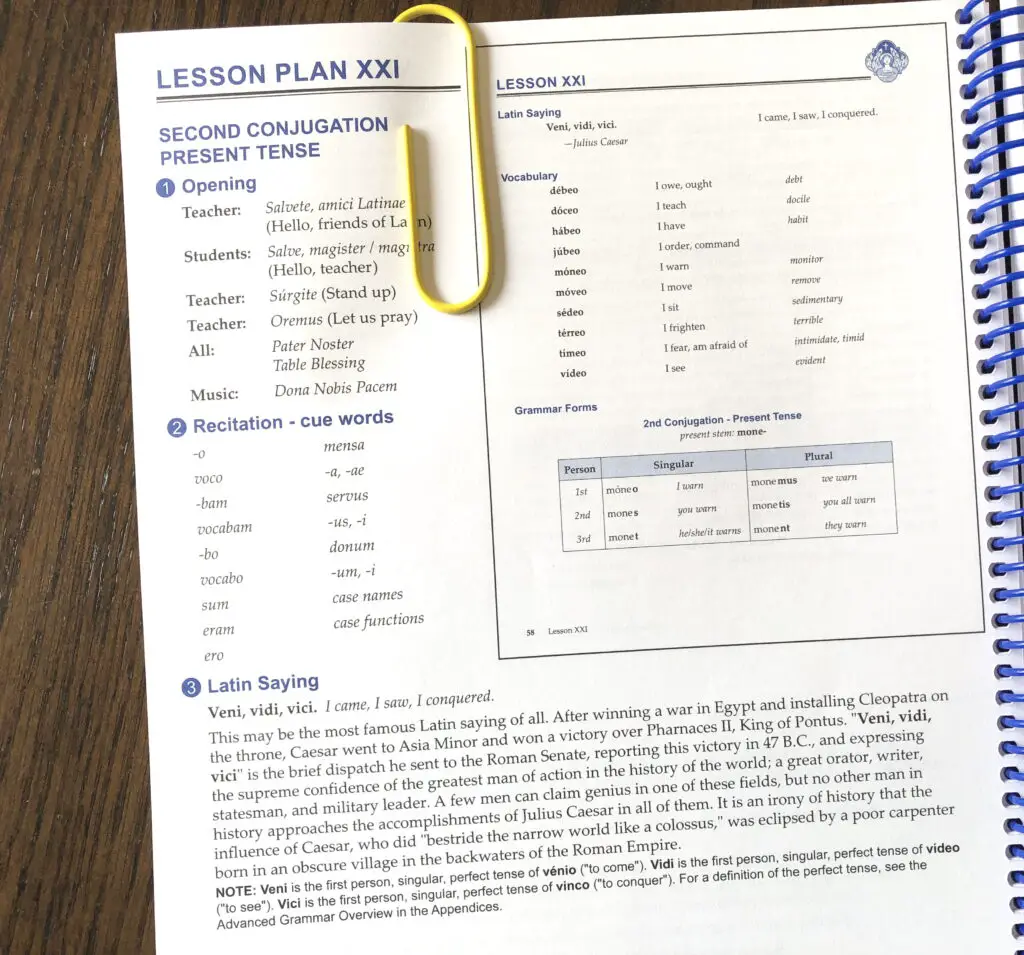 You don't have to be intimidated – if I can do it, you can too!
How I Use Latina Christiana
As I mentioned before, I use this curriculum with our homeschool co-op that meets once per week.
Prior to teaching a lesson, I watch the lesson on the DVD. They're short (only about 10-15 minutes), so it really doesn't take much prep time. I watch to get an idea of the flow of the lesson, and learn any new pronunciations and grammar forms we'll be covering.
In co-op, I'll teach pretty much what the DVD covers, which follows the steps of the Teacher's Manual. If we have extra time, we'll play some vocabulary review games (the kids love hangman and Pictionary for vocab review!) and I'll assign some homework and review for the kids to complete during the week.
Each class/lesson consists of Latin conversation, review, and recitation; new vocabulary, Latin sayings, derivatives, and grammar; and practice exercises.
Our Weekly Schedule
In learning Latin, you have to commit to frequent practice to really memorize the vocabulary and grammar forms. Here is our typical schedule each week and what I have my kids work on:
Day 1: Co-op class/new lesson
Day 2: Complete the exercises in the Student Workbook
Day 3: Complete the extra cumulative Review worksheet (this is from the extra book I purchased)
Day 4: Make flashcards and practice new vocabulary
Day 5: Cumulative vocabulary review
If we didn't do Latin in co-op (and were just completing it in our homeschool), we would simply watch the video lesson together at home, and then follow the same schedule from there.
I also want to share a great tool I found that we use to practice our Latin vocabulary during the week: the Learning Latin Flashcard App. You can download any of the Memoria Press Latin levels individually, or the entire Memoria Press vocabulary set. Handheld flashcards are great, but I love this app because we can practice our Latin vocab anywhere!
What I Love Most About Memoria Press Latin for Beginners
Everything you need to get started with learning Latin is right at your fingertips with this curriculum!
I love how easy-to-follow it is, even for someone like me who has never studied Latin before. The lessons are short, straightforward, predictable, and effective. And I love that I've been able to teach it in our co-op with minimal prep – my kids are getting to take this class and learn Latin with their friends, which has been a blast!

The Student Workbook is also an invaluable tool for my kids. The appendix lists everything they learn in the course, from Latin prayers to conversational Latin phrases to vocabulary in alphabetical order – so it's really easy for them to look things up if they forget.

Final Thoughts
We are still early in our Latin journey, but we are enjoying this curriculum and I have already begun to see the benefits. If you're looking for a great Latin for beginners curriculum, Memoria Press won't disappoint!
What do you think – will you give Latin a try in your homeschool? What curriculum have you used and loved? Drop a comment below!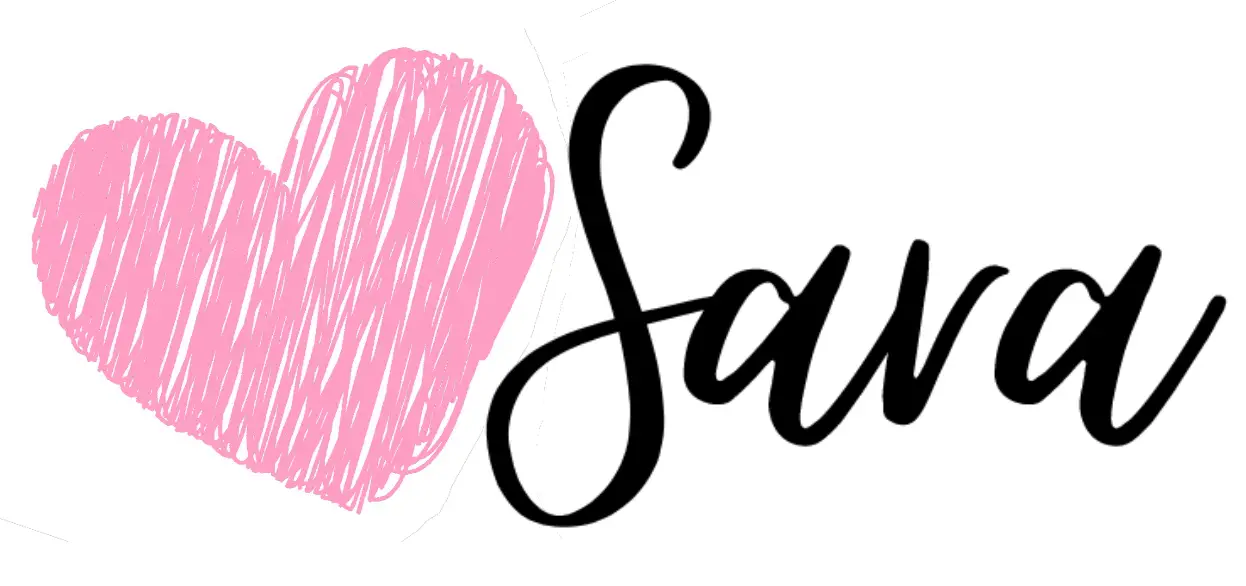 Related Posts
Blessed Homeschool is a participant in the Amazon Services LLC Associates Program, an affiliate advertising program designed to provide a means for sites to earn advertising fees by advertising and linking to Amazon.com. You can read my full affiliate disclosure HERE.