Homeschooling in West Virginia: Know the Expectations
Just so you know, this post contains affiliate links. That means if you use them to make a purchase, I may earn a commission. You can read my full affiliate disclosure HERE.
West Virginia, the Mountaineer state, is small in size, but rich in natural beauty. So what is homeschooling in West Virginia really like?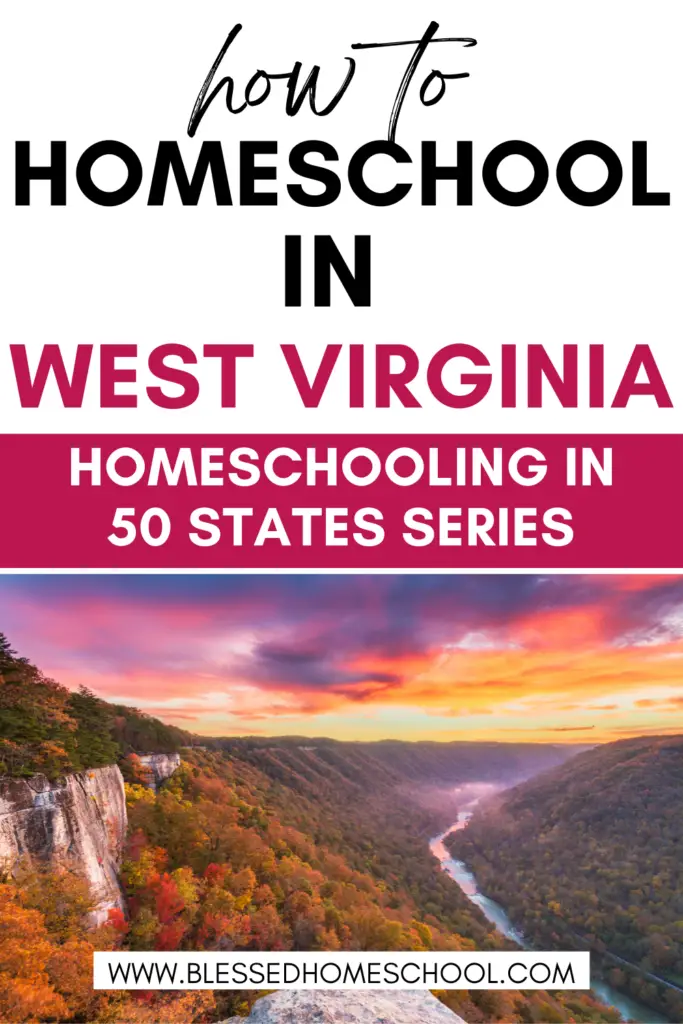 Homeschooling in West Virginia
West Virginia is considered a moderately regulated state by the Homeschool Legal Defense Association (HSLDA). This is in comparison to other states, which you can see on this map.
Homeschool Options in West Virginia
West Virginia offers three options to be within compliance of the homeschooling regulations. They are:
Homeschooling by seeking school board approval. This is a bit more unusual for homeschoolers since it requires approval from the local school board. It also requires that you use their required assessment, approved location, and all paperwork must be approved with 180 days of instruction.
Homeschooling by submitting a notice of intent. This option is what most homeschooling families in West Virginia choose. It requires a letter of intent and annual assessments (as described below). You only have to file one notice of intent unless you move to a different county or stop homeschooling.
Homeschooling by participation in a learning pod. This also requires a letter of intent and annual assessments, but it is conducted in what is typically a co-op setting rather than an individual homeschool family.
Homeschool Assessments & Record Keeping
Annual assessment options include written narratives from a certified teacher after a portfolio review; standardized testing at the public school; private standardized testing; and any other assessment agreed upon by the school district. Assessments must be submitted to the county superintendent for the 3rd, 5th, 8th, and 11th grades by June 30 in those years.
Good recordkeeping is also highly recommended for West Virginia homeschool families. This can be important to show yearly progress for the annual assessments and for high school transcripts.
Important paperwork to keep includes:
Attendance records
Information on the textbooks and workbooks used
Samples of your child's schoolwork
Correspondence with school officials
Portfolios and test results
Any other documents showing that your child is receiving an appropriate education in compliance with the law
Compulsory school age is 6-17 years old.
Keep in mind that it is always good practice to send any correspondence to the school district as certified mail with return receipt requested so that you have proof that paperwork was submitted.

Fun and Educational Places to Visit in West Virginia
There are many fun field trips to enjoy throughout the state of West Virginia. Here are a few favorites that are great places for homeschoolers to visit:
Oglebay Good Zoo – Oglebay Park and Resort is home to world famous golfing and an annual Christmas lights display that is so much fun for the whole family! One of the special attractions is the Good Zoo, home to more than 50 species of animals. It's open year-round and hosts special events throughout the year, so check the calendar before you visit.
Clay Center for the Arts and Sciences – Clay Center has a variety of activities and events for the whole family, including science demonstrations, museums, live theater, and more. 
Cass Scenic Railroad Park – Take a ride on a historic scenic railroad and enjoy the natural beauty of West Virginia's mountains. Learn about the history of lumber towns and steam-powered locomotives.
Spark! Imagination and Science Center – This fun science center offers hands-on projects, special events, and an education program that will enrich your homeschool experience. Kids will love the hands-on learning fun! Be sure to check out the events calendar for special learning opportunities.
Lost Worlds Caverns – Lost Worlds Caverns is a cool place to visit, literally! Explore 120 feet below the ground and learn about stalactites and stalagmites. There are guided tours and self-paced tours, but the trails are well-marked to avoid getting truly lost in Lost Worlds.
State parks – There are many state parks to choose from for camping, hiking, and wilderness exploration. They're great places for nature study!

Homeschooling in West Virginia Resources
You can find the homeschooling requirements for West Virginia on the state website with further details and explanations. It is always best to read the regulations for yourself and seek legal counsel if you have specific questions or issues to be sure that you are in compliance.
The West Virginia Homeschool Hub is another source of information and support for homeschooling families, including a list of co-ops and groups across the state.
I'd love to hear from you in the comments: are you homeschooling in West Virginia? What are your favorite groups, resources, and tips for new homeschooling parents? Comment below!
And if you'd love to have a printable resource to use to keep track of state homeschool requirements, key organizations, activities and field trip plans, and curriculum notes, grab a copy of my Curriculum & Activity Planner below (it's free!):
Interested in learning about homeschooling in another state? Check out the Homeschooling in 50 States Series.
Related Posts
Blessed Homeschool is a participant in the Amazon Services LLC Associates Program, an affiliate advertising program designed to provide a means for sites to earn advertising fees by advertising and linking to Amazon.com. You can read my full affiliate disclosure HERE.