Homeschooling in Virginia: The Basics You Need to Know
Just so you know, this post contains affiliate links. That means if you use them to make a purchase, I may earn a commission. You can read my full affiliate disclosure HERE.
This is a great time to be homeschooling. The number of homeschoolers in the US is continually expanding, and that means the homeschool market is increasingly attractive to companies that create and publish educational resources.
After the stiff learning curve of virtual schooling during the pandemic, many learning programs have developed new and more intuitive online learning opportunities for homeschoolers and other learners alike.
Opportunities abound, but it's still essential to understand the basic laws and requirements for homeschooling in your state. Here are the essentials you'll need to know for homeschooling in Virginia.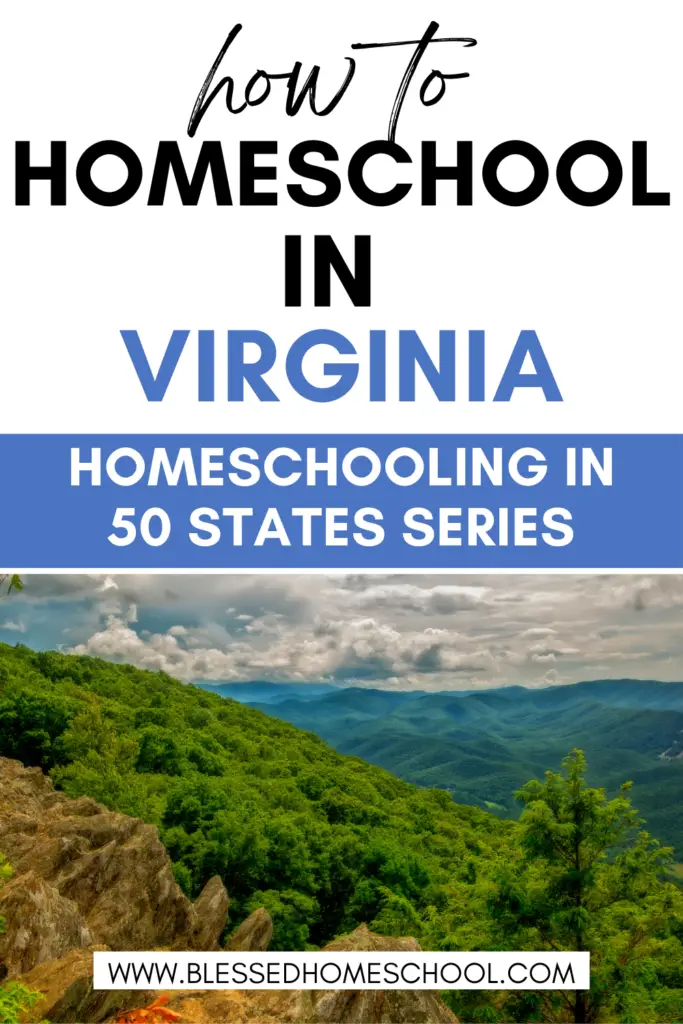 Virginia Homeschool Law
Religious Exemption
Before the "homeschool law" was on the books, many families homeschooled via the religious exemption statute. This legal option allows families to state and give reasons why they have moral (not political or philosophical) objections to enrolling their children in public school.
This method requires a well-written letter to your county school board, accompanied by two or three letters of reference that can testify to your religious convictions. Depending on your county, the school board may also request a statement from any children over the age of thirteen verifying that they share your religious convictions.
Once you have obtained religious exemption for any school-aged children, you are not required to submit any further documentation. If you have children who are younger than school age at the time you submit your letter of religious exemption, you will need to resubmit a request for their exemption when they become school aged.

Virginia Home Instruction Statute
Notice of Intent
Most homeschool families in Virginia choose to homeschool under one of the four options in the Homeschool Statute. Families using this method must submit a "Notice of Intent" by August 15 of each school year and provide evidence of their qualifications in accordance with one of the provisions in the statute:
Primary instructor/parent has a high school diploma
Primary instructor/parent is a board certified teacher
Student is enrolled in a distance learning program
Parent provides evidence that he is able to provide an adequate education
Proof of Progress
Families who homeschool under this statute need to provide proof of progress by August 1 following each homeschool year. Some families submit his proof in the form of a standardized test (including PSAT/SAT or ACT scores where appropriate).
Other families may have a certified teacher look over samples of the student's work and submit a letter to the county certifying that the student has shown adequate progress under home instruction.

Certified Tutor Provision
The third and least common method of home education in Virginia is the Certified Tutor provision which allows certified teachers to be the primary instructor for their own children. The parent must provide proof of their certification to the school board. No end of year assessment is required.
The Home Educators Association of Virginia (HEAV) is the state's primary homeschool organization and can give advice on how to meet the requirements for any of these homeschooling options in the state of Virginia.
Homeschooling in Virginia: Record Keeping
Other than the requirement to show sufficient annual progress, Virginia does not have any stipulations about the number of school days, so very little record keeping is required. Parents do not need to submit lesson plans or have curriculum approved. Parents also do not need to homeschool under an umbrella organization or register as a private school.
Graduation
In Virginia, homeschool diplomas and transcripts are issued by the parent. There is no specific requirement as to the number of credits or specific subjects that must be included on a high school transcript or completed for graduation.
Help with the Virginia Homeschool Law
For more details on Virginia Law, you can find the Homeschool Statute here, or check out the HEAV page overviewing the homeschool laws. You might also enjoy this video that details the history of home education freedoms in the state!
If you are planning on pursuing Religious Exemption as your family's method of complying with Virginia Law, you may want to consider membership in the Home School Legal Defense Association (HSLDA). They offer a packet of resources for families pursuing religious exemption and personal support in reviewing and revising your letter to ensure it meet legal requirements.
In June of each year, the Home Educators Association of Virginia holds its annual Convention at the Greater Richmond Convention Center in downtown Richmond. As one of the largest homeschool conferences in the entire country, Convention is a great time to get encouragement and information from workshop speakers, peruse curriculum and other resources first-hand, and participate – as a buyer or sell or both – in a huge used curriculum sale!
Convention runs Thursday – Saturday and the Thursday afternoon program includes free workshops for new-to-homeschooling families. Veteran homeschool moms and HEAV volunteers will walk you through the ins and outs of homeschool law and how to get your homeschool up and running!
Perks of Homeschooling in Virginia
I may be biased, but I think Virginia is one of the best locations for an outstanding homeschool experience. In addition to our proximity to both the ocean and the mountains, Virginia is rich in history and historical sites. Here is just a small sampling of the many field trip destinations you might consider!
I wish you much success and learning on your Virginia Homeschool journey! We'd love for you to join the Homeschool Teacher's Lounge in our private community. And if you'd like a fun way to announce your homeschool plans to the world, why not try out these unique and quirky First Day of School signs!
If you are homeschooling in Virginia, please share in the comments below: what are your favorite perks about homeschooling here? What advice would you share with first time homeschool moms? I want to hear!
And if you'd love to have a printable resource to use to keep track of state homeschool requirements, key organizations, activities and field trip plans, and curriculum notes, grab a copy of my Curriculum & Activity Planner below (it's free!):
Interested in learning about homeschooling in another state? Check out the Homeschooling in 50 States Series.
Lynna Sutherland is a certified parenting coach, host of the Sibling Relationship Lab podcast and homeschool mom of eight kiddos ages high school to preschool! She writes about gospel-centered parenting at Sibling Relationship Lab, on topics of homeschooling and large family living at Your Large Family Homeschool, and about all things Latin at Homeschool Latin Help.
Related Posts
Blessed Homeschool is a participant in the Amazon Services LLC Associates Program, an affiliate advertising program designed to provide a means for sites to earn advertising fees by advertising and linking to Amazon.com. You can read my full affiliate disclosure HERE.