We love video games in our home! If you are concerned about the draw of your kids to video games and a possible addiction or excessive use, this post may not be for you. However, if you want some fun tips in incorporating educational video games and related activities into your homeschool, read on mama!
When I met my husband, I knew of his love for video games. Although they have never personally been my "thing", it was inevitable that at least some of my kids would enjoy this activity.
I think video games and screen time can certainly be abused, but I also don't necessarily think they're always the villain they're made out to be.
My kids play video games. I love seeing their enjoyment in playing together! They are also well-rounded in other activities they participate in, and do great work in our homeschool.
Everyone needs an outlet, and video games can be a fun way for kids to relax, make connections with other kids, and even learn!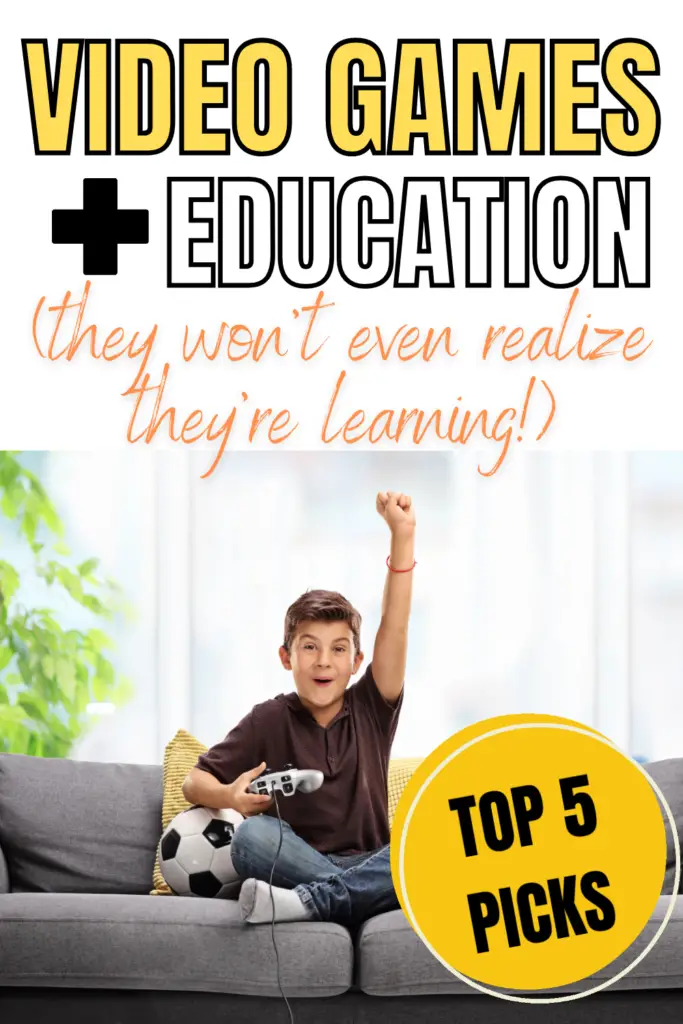 Just so you know, this post contains affiliate links. That means if you use them to make a purchase, I may earn a commission. You can read my full affiliate disclosure HERE.
Benefits of Video Games
There often is more talk of the negatives of too many video games, and not as much of the benefits kids can enjoy from playing them.
Kids certainly work on problem-solving, decision-making, time management, critical thinking and planning skills while playing video games, and research has shown that some games (like Minecraft) may help with organizational tasks and focus. There are wonderful opportunities for creativity, collaboration, and teamwork in many games!
Video games can be fun and educational.
Transferrable Skills
I am a group exercise instructor at my local gym. I teach fitness because I love it, and it's a great outlet for me – not to mention, my classes are fun! As a byproduct of teaching and exercising, I get stronger and stay healthy.
Similarly, there are byproducts to the joy of playing video games: skills our kids learn through video games they can transfer to other areas of their lives.
It's easy to complain that our kids want to spend too much time on screens. It's harder to take a step into their world and encourage them to strengthen these skills.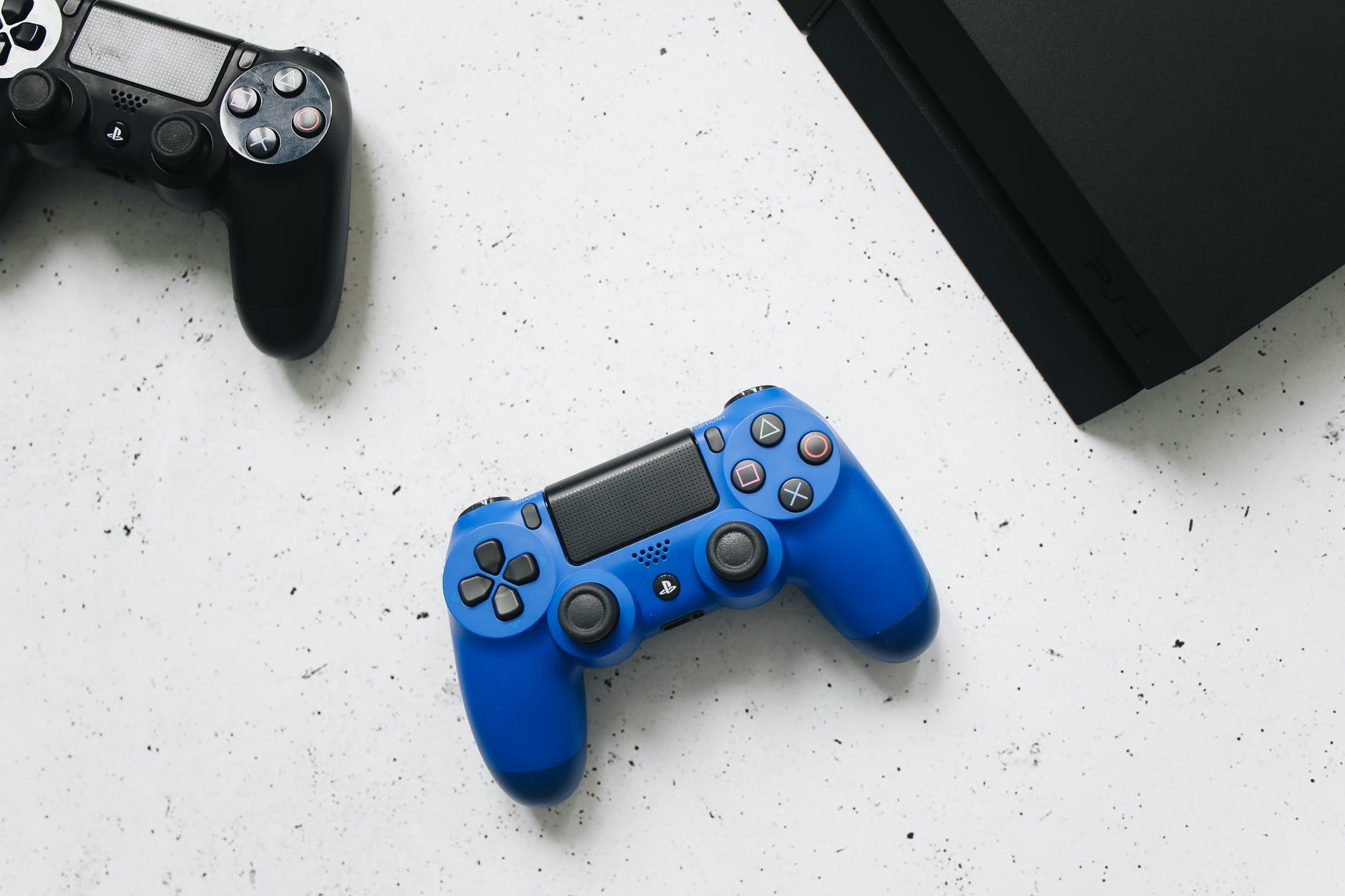 Take the time every now and then to sit with your kids while they play (or even play with them!) so that you can have conversations with them about skills they are learning.
Encourage your kids to take the skills they are using in their games and apply them in different ways (as applicable) throughout your homeschool.
This can be hard for us moms to do – especially if we aren't video-game-inclined. But the chance to build connections and help your kids make applications to their lives will be worth it.
Try to be creative and intentional about noticing the skills they develop, and about complimenting and encouraging your kids when you see growth and strength in any area.
How We Do Screen Time
As parents, we need to help our kids balance their screen time with other activities.
Different families will have different rules surrounding screen time – there is no one "right" way to do it. There are a lot of factors to consider, and you might need to try a few scenarios before something feels right.
When our kids were a little younger, we allowed them 1 hour of screen time after all chores and schoolwork were done for the day. We didn't have a restriction on the weekend, but we are typically busy enough on the weekends that there isn't a lot of time for screens anyway.
This year, my "big" kids are 9, 7, and 7. Our only "rule" now is that they need to have all of their schoolwork completed and all of their chores done before they are allowed time on electronics. My husband and I don't have a strict limit other than that. Some days, there is more time spent on video games, and other days, more time is spent on other activities.

For our family, this works well. I have had many conversations with my kids about having balance, and they are learning how to monitor their use of electronics and know when it's time to take a break. We also have to make sure that as parents, we are being good models of our own electronics usage versus other activities, because our kids watch and learn from us each day.
Talk with your kids about the importance of having a variety of interests. Set standards and give good reasons for any rules you set for your family. But video games don't have to be the enemy, especially if your kids love playing them.
Top Picks for Educational Video Games
Not only do they not have to be the enemy, but video games can lend to our kids' strengths and be a great asset to your homeschool.
Here are a few video games (recommended by my husband and son!) that are both educational and fun:

Adventure Academy is a favorite of all of my kids – I wish I would have found it sooner! It's geared for kids ages 8-13 (it's created by the makers of ABC Mouse), and they learn essential skills in language arts, math, social studies, and science while playing in this fun virtual universe.
[Try Adventure Academy for FREE for 30 days!]
Kerbal Space Program is great for kids who are interested in space exploration and is great for experience in physics and engineering.
Portal 2 is one of my son's favorites. It is a game of puzzles and non-violent action, and kids can build great problem-solving skills while playing.
If your kids aren't playing Minecraft yet, it's another favorite. Use survival mode to develop critical thinking, situational awareness and engineering skills.
Cities Skylines is a little more complicated (there's a learning curve), but it's a great game to develop a sense of problem solving in an economy. Kids play as the mayor of their city and have to build and manage all aspects of it's growth and development.
National Geographic Challenge is an adventure game where kids will journey through history and geography and many other themes that will keep them entertained (they won't even realize they're learning!).
Educational Activities Inspired by Video Games
Finally, here are a couple of "non-video game" activities, lessons, and resources that are inspired by video games…you know, "school-y" things you can do that will interest kids who love gaming.
Stop Motion Video Making is something my son has loved playing around with. Check out this tutorial for kids from Let's Lasso the Moon if your kids are interested in giving it a try.
This project-based activity from Digital Divide and Conquer on Teachers Pay Teachers will have your kids designing their own video game! Such a fun resource for your 2nd-6th grade kiddos.
Year Round Homeschooling has a great Video Game Unit Study you can check out here.
Learn about the History of Video Games with this fun idea from The Organized Homeschooler.
If you'd like your video-game loving kids to get some writing practice in a fun way, I created a Video Game Review printable you can print today and use in your homeschool. Grab it for free at the bottom of this post!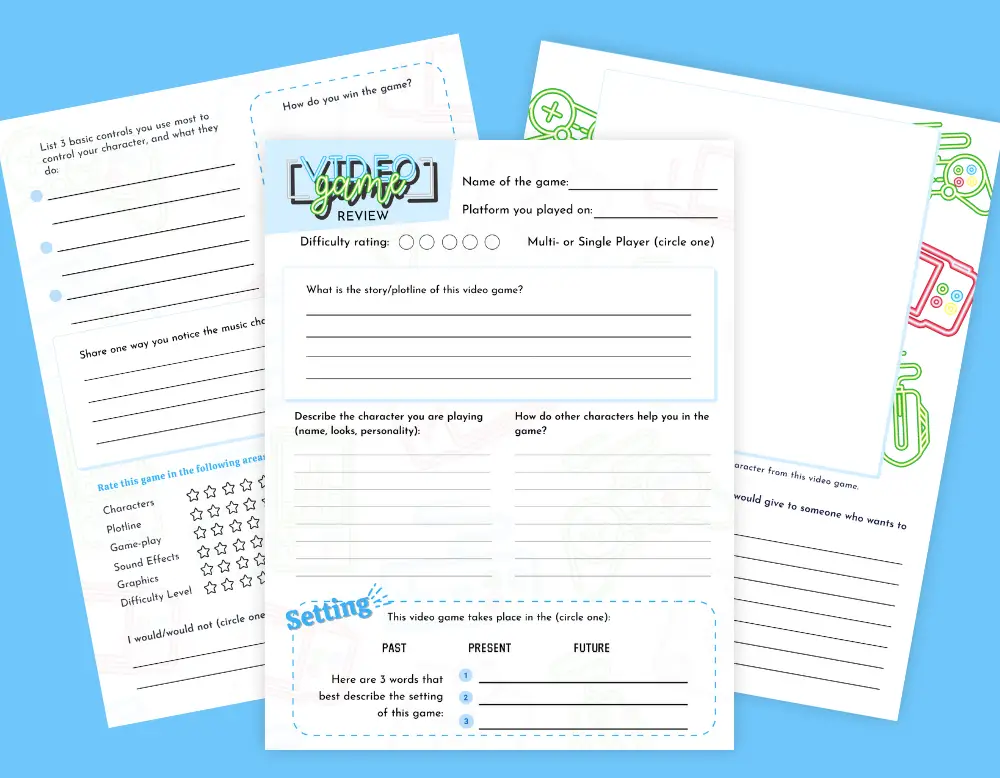 Free Video Game Review Printable
As parents, we certainly need to keep an eye on what our kids are exposed to and how much time they spend on electronics. But as long as we have some boundaries in place and our kids are active in other areas of their lives, video games can be a great activity for them to enjoy on the side.
I would love to hear your thoughts in the comments below: do your kids love video games? What are some fun ways you incorporate the games they love into your homeschool?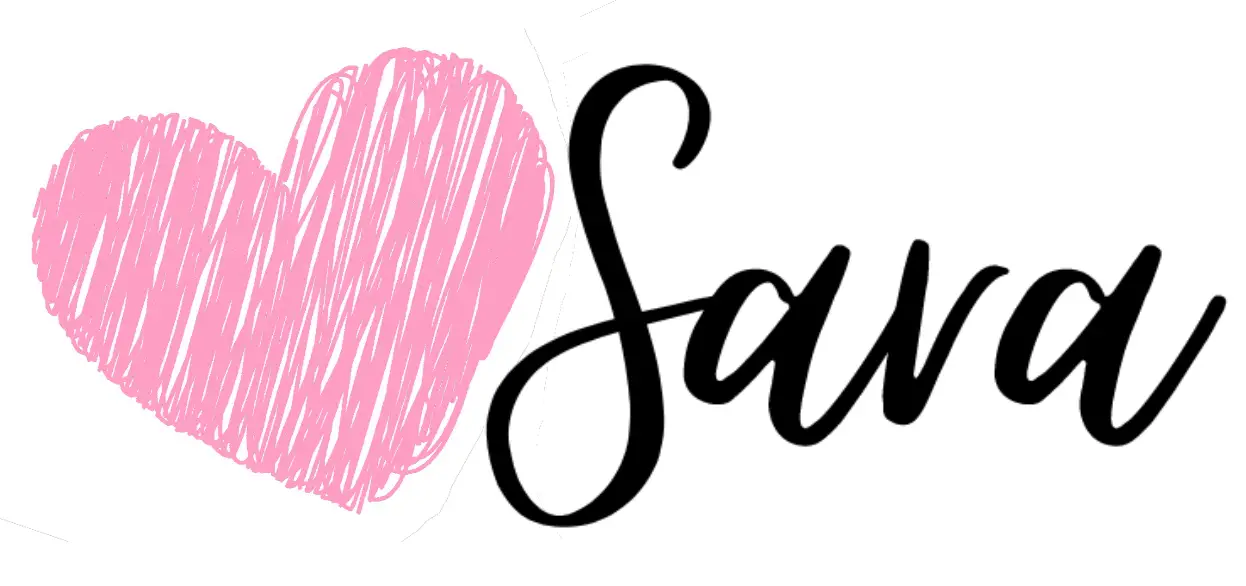 Related Posts