Homeschooling in South Carolina: Options, Opportunities, and Free Resources
Just so you know, this post contains affiliate links. That means if you use them to make a purchase, I may earn a commission. You can read my full affiliate disclosure HERE.
Welcome to the beautiful state of South Carolina! Whether you're brand new to homeschooling in South Carolina or just brand new to our state, let me say how glad I am that you're here!
The first thing you need to know about homeschooling in South Carolina is that you're not alone! And South Carolina loves to support its homeschoolers!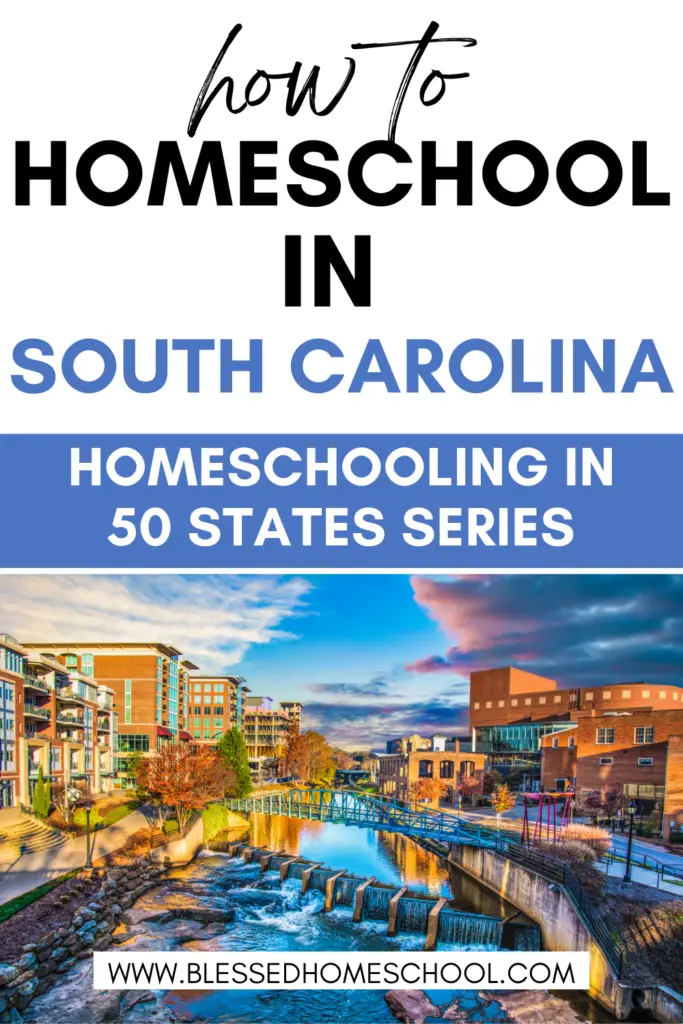 Which Option is Right for Our Family?
When I first explored the regulations for homeschooling in South Carolina, I was coming from a less regulated state and felt a bit overwhelmed with the three options and all of the requirements.
I'll break down the basics for you next, but know that MOST people choose Option Three for the freedom and flexibility it offers…so if you're already feeling stressed, go ahead and skip on down to that one.
It's easier than you think…I promise!
You can find the legal code, annual lists of approved associations, frequently asked questions and more on the state site. Students between the ages of 5-17 fall under the requirements.
Here are the basics in a nutshell for you:
Option One
Parents contact their local school district and submit an application requesting permission to homeschool—subject to board of trustees' approval.
Requires 180 days of instruction – days must be at least 4.5 hours (not counting lunch or recess) of the required core subjects (reading, writing, math, science, social studies—adding composition and literature for grades 7-12)
Maintain records (plan book, portfolio of work, & semi-annual progress reports)
Ensure student has access to library
Complete annual statewide testing (district can force you to place them in public school, special needs services, or instructional support services [at your expense] if your student doesn't perform well)
Option Two
Parents are given permission to homeschool their kids with support from the South Carolina Association of Independent Home Schools. You can find out more info and apply on their website.
Apply
They help develop an educational plan for your students
They oversee and support you in your homeschool journey

Option Three (MOST COMMON)
Parents select the Homeschool Association of their choice for accountability and then use whatever curriculum, schedule, etc. that works best for them…with a few rules.
You must be the child's parent or legal guardian in order to homeschool them.
The parent/guardian must have at least a high school diploma or GED.
Be part of a homeschool association. The Association must be a state-approved choice with at least 50 members. For a list of current associations, click here. I recommend spending some time on their websites to help you decide which one is right for your family. I also browsed the social media sites of the ones that interested me to help me find the best fit for us. Most require a small fee per family ($20-50/year) and offer varying levels of support/resources. 
Keep record of a minimum of 180 instructional days each year (no hourly requirement or requirement of what constitutes an instructional day…so if you go to the zoo, watch an educational movie, read books, complete art projects, etc. you can count all of that toward these days).
Include instruction in reading, writing, math, social studies (Bible, geography, history, etc.), and science—must also include composition & literature in grades 7-12. How you choose to teach these subjects is totally up to you though, so regardless of whether you Unschool, Funschool, Lifeschool, etc. you're still in control of your child's education.
Maintain educational records that include at least:

A plan book, diary, or other record indicating what you're teaching and the dates. Our family uses a homeschool planner and I jot down the curriculum we use along with basic info: "Aquarium field trip; Math-U-See Alpha Lesson 1A; Letter practice; Sea Turtle Unit Study." Quick and easy. Sometimes I jot it down at the end of each day, but often I do it once a week.
Attendance Record (simply mark the days on a calendar or in your planner)
A portfolio of samples from each student's work (I just keep a folder for each child and put 1-2 pages for each subject during the first 90 days and again at 180 days. I also like to save projects and keep these as memorabilia for the kids).
Semi-annual progress reports at 90 & 180 days (You don't turn these in, just acknowledge to your association that you completed them typically). It can be grades (A-F or Exceeds Expectations, Satisfactory, Grade Level, Needs Improvement), or a simple paragraph note about what the student is learning (Johnny learned letters A-L, counting to 20, the 7 continents, ancient Egyptians, and how to write his name).
You only need to show these records if you're audited. No need to stress, I promise!

Homeschooling in South Carolina: FAQ's
What if I choose to put my kids back in public school after homeschooling?
Districts decide what grade level to place your child in.
Will the state of South Carolina issue a High School Diploma for my student?
No, as the parent, you issue your child's diploma (or the association you choose to be part of).
What if I don't like the Homeschool Association I choose under Option 3?
Don't worry, if you don't like the one you picked, you can change at any time (usually just without a refund if you switch mid-year).
Popular Events
Great Homeschool Conventions puts on an AMAZING conference for homeschool families every spring in Greenville, South Carolina. I highly recommend attending, even if you have to travel for it. You'll be equipped and encouraged by the speakers, make wonderful new friends, connect with homeschool vendors to ask questions and browse products, and purchase curriculum and other resources on site. Learn more and register here.
I speak at a number of amazing virtual homeschool conferences every year. Be sure to subscribe to my newsletter for all the latest info. Many of them offer free options or very affordable lifetime access with 50-100 workshops covering every homeschooling topic imaginable and providing tons of free resources and supportive community groups!
The South Carolina Homeschooling Connection also provides resources, including updates on policies, various info, and freebies. They also put together a virtual homeschool conference.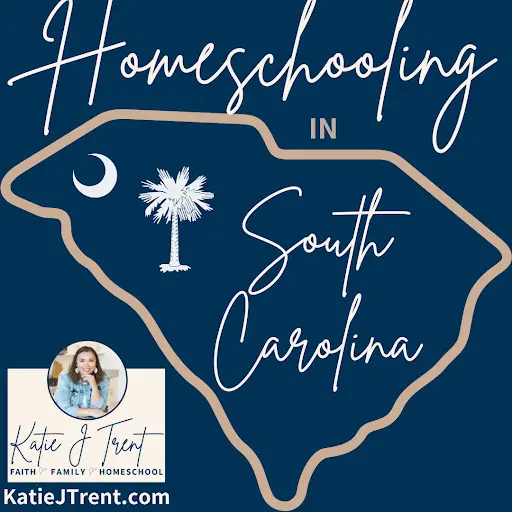 Helpful Websites & Resources
HSLDA (Home School Legal Defense Association) is a great resource for homeschoolers and they have tons of helpful info on this page specific to homeschooling in South Carolina. You'll find info about withdrawing your kids from public schools, resources for special education, and so much more!
If you're looking for phenomenal homeschool podcasts to listen to, be sure to check these out.
You can also search "Homeschool in South Carolina" (or your city/county) and find great groups on social media to help you connect with other homeschoolers in your area.
If you're looking for more opportunities to connect with other homeschooling families, co-ops, and groups in your specific area, Homeschool Hall has created a comprehensive,
FREE Homeschool Directory
that is super helpful. Homeschool clubs, tutors, curriculum stores, and sports are also listed, so you can find almost anything you need to support your homeschooling.
Free Homeschool Resources
Free Guide to Overcoming Seriously Stressful Homeschool Days by Katie J Trent
You'll never regret the time you invested in homeschooling your children, no matter how challenging the journey may feel at times. You can do it, and we're here to help! Feel free to email me if you have any additional questions or I can support you in any way. I'm always happy to help you however I can!
I'd love to hear from you in the comments: are you homeschooling in South Carolina? What tips or advice can you offer to others homeschooling in this state?
And if you'd love to have a printable resource to use to keep track of state homeschool requirements, key organizations, activities and field trip plans, and curriculum notes, grab a copy of my Curriculum & Activity Planner below (it's free!):
Interested in learning about homeschooling in another state? Check out the Homeschooling in 50 States Series.
Katie makes homeschooling easier—and deliciously fun! She's the bestselling author of Dishing Up Devotions: 36 Faith-Building Activities for Homeschooling Families. She's also a popular blogger and speaker who infuses faith and fun to build strong families. Katie resides in Myrtle Beach, South Carolina with James—her husband of 17 years—and their two children. She loves equipping mamas to grow their faith, strengthen their family, and simplify their homeschool. You can find more great resources and connect with her at KatieJTrent.com.
Related Posts
Blessed Homeschool is a participant in the Amazon Services LLC Associates Program, an affiliate advertising program designed to provide a means for sites to earn advertising fees by advertising and linking to Amazon.com. You can read my full affiliate disclosure HERE.