Homeschooling in Montana: A Guide to the Law and Resources
Just so you know, this post contains affiliate links. That means if you use them to make a purchase, I may earn a commission. You can read my full affiliate disclosure HERE.
Homeschooling in Montana offers many opportunities as it is jam-packed with co-ops, classes, activities catered toward homeschoolers, and lots of support. Read on to learn about Montana homeschool laws and resources available to you.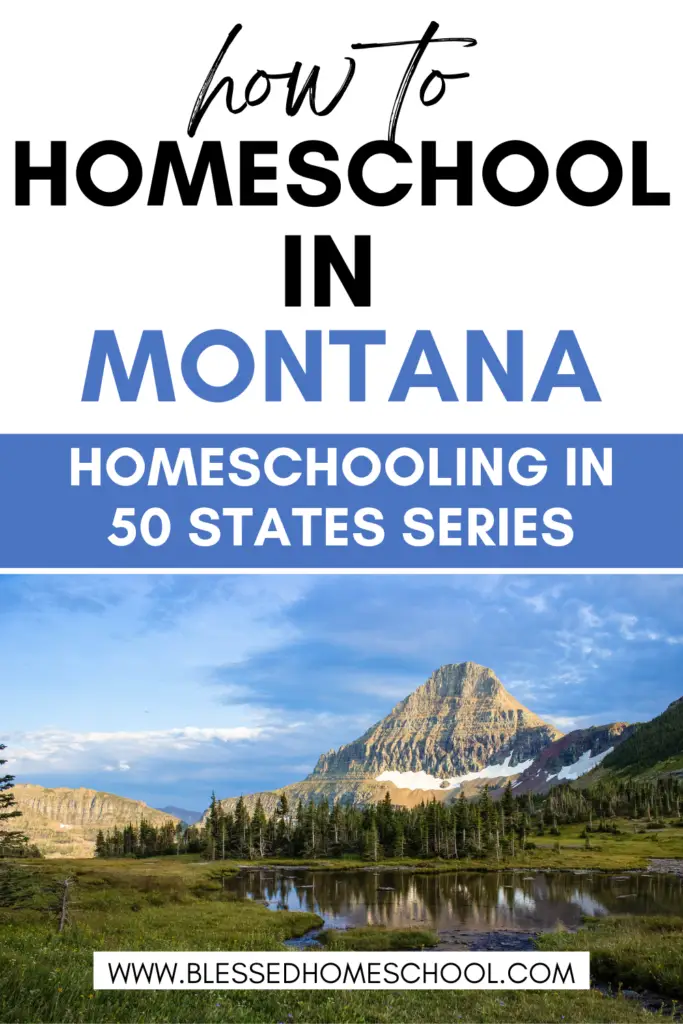 Homeschooling in Montana: The Law
Montana homeschooling laws are very straight forward. According to the Office Of Public Instruction, only children between 7 years old and 16 years old (by the first day of public school) must be notify the county school district.
Notifying the county is very easy. All the parent must do is send in a Letter Of Intent To Homeschool to the County Superintendent of Schools. This letter will include the child's name and a statement stating the child has completed all required hours in the year before.
For a 7-year-old with no prior school, you do not have to write anything containing completing hours. In the state of Montana, you do not even have to include your child's birthday or grade.
Parents are required to keep a copy of the child's immunization records close in case the Superintendent asks for proof.

Homeschooling Recommendations
HSLDA recommends parents keep a school portfolio (in cases needed) when homeschooling in Montana. In this portfolio, it is recommended to include the hours studied, names of curriculum used, and sample work. This portfolio is not required, but it is always a good idea to have.
Students in grades 1-3 are required to complete 720 hours of school. Students grades 4-12 are required to complete 1080 hours of school. These hours may seem like a lot, however once you factor in sports, activities, classes, co-ops, the hours add up quickly.
Another key point is there is no state testing in the state. This can alleviate the pressure of state testing.
Montanans are very fortunate to have an active homeschooling group called Montana Coalition Of Home Educators fighting for the freedom to homeschool.

Homeschooling Resources
Montana homeschoolers have an abundance of resources and very active communities. For example, all of the big cities in Montana all have classes, co-ops, and activities designed to meet the homeschooling need.
As an illustration of how homeschooling friendly Montana is, here is a list of resources in each of the big cities in Montana.
Billings
Yellowstone Coalition of Home Educators: YCHE is a large group of more than 700 homeschooling kids who come together for fieldtrips, meetups, friendship, support, and a yearly Back To School Kick-Off
Sage Co-op: Sage Co-op is one of the biggest co-ops in the Billings area. They are parent led and offer a full day of classes every Monday.
We Montana: We Montana is a new program that offers choir, band, general music, etiquette, and skit classes.
Montana Audobon Center: The Audobon offers outdoor science classes or homeschoolers age 5-13 years old. Kids learn about the environment, weather, dinosaurs, outdoor survival skills, canoeing, etc.
Classical Conversations: The Classical Conversations Co-op is a parent led co-op and they use the Classical Conversations method for teaching.
Fortis Academy: Fortis Academy is a private school (started by homeschooling parents), who offers homeschooling students the opportunity to take a class or two through their school. They have a STEM through their school to.  
Missoula Children's Theater: One to two times a year Missoula Children's Theater comes to Billings and puts on a homeschool production. All homeschoolers are welcome. Furthermore, children will practice all week and then put on a show on the weekend. It is super fun and kids love it!
University Connection Program: Billings Connection Program is a program that partners high school homeschoolers with Montana State University. They allow homeschoolers to take college classes for FREE!. In addition, this is a great way for high schoolers to have dual enrollment and earn an Associate's degree by the time they graduate high school.
Bozeman
Great Falls
Helena
Missoula
Gems throughout the state
In Closing
Homeschooling in Montana is an easy state to homeschool in. In addition, all the resources bring a huge bonus to your school. With a pro homeschool community, new resources are always popping up. As a homeschooling parent, you will have plenty of options for your students.
I'd love to hear from you: are you homeschooling in Montana? What resources do you use and love? Drop a comment below!
And if you'd love to have a printable resource to use to keep track of state homeschool requirements, key organizations, activities and field trip plans, and curriculum notes, grab a copy of my Curriculum & Activity Planner below (it's free!):
Interested in learning about homeschooling in another state? Check out the Homeschooling in 50 States Series.
Related Posts
Blessed Homeschool is a participant in the Amazon Services LLC Associates Program, an affiliate advertising program designed to provide a means for sites to earn advertising fees by advertising and linking to Amazon.com. You can read my full affiliate disclosure HERE.