Homeschooling in Idaho: Helpful Tips & Resources
Just so you know, this post contains affiliate links. That means if you use them to make a purchase, I may earn a commission. You can read my full affiliate disclosure HERE.
Homeschooling in Idaho? You've come to the right place! Learn the law, find helpful groups and co-ops, and fun field trip ideas to help you on your journey.
Homeschooling in Idaho: What's Required?
Idaho requires that kids between the ages of 7 and 16 years old receive education.  Idaho code states that instruction shall be "in subjects commonly and usually taught in the public schools."  The law does not specify how or to what degree these subjects should be achieved. 
Parents and guardians are permitted to educate their own children in whatever manner they see fit.  Parents do not have to meet any qualifications, nor do they have to notify the state in order to homeschool.  However, if a student has already been enrolled in public school, it is wise to submit a withdrawal letter to the school in order to avoid being reported for truancy. 
Homeschool families do not have to take state tests, submit lesson plans, or follow the local school's yearly schedule. They are free to school on whatever schedule they wish, using the education style, and keeping the pace which works best for their students. Neither the state department of education nor local school districts have regulation or oversight of home educators.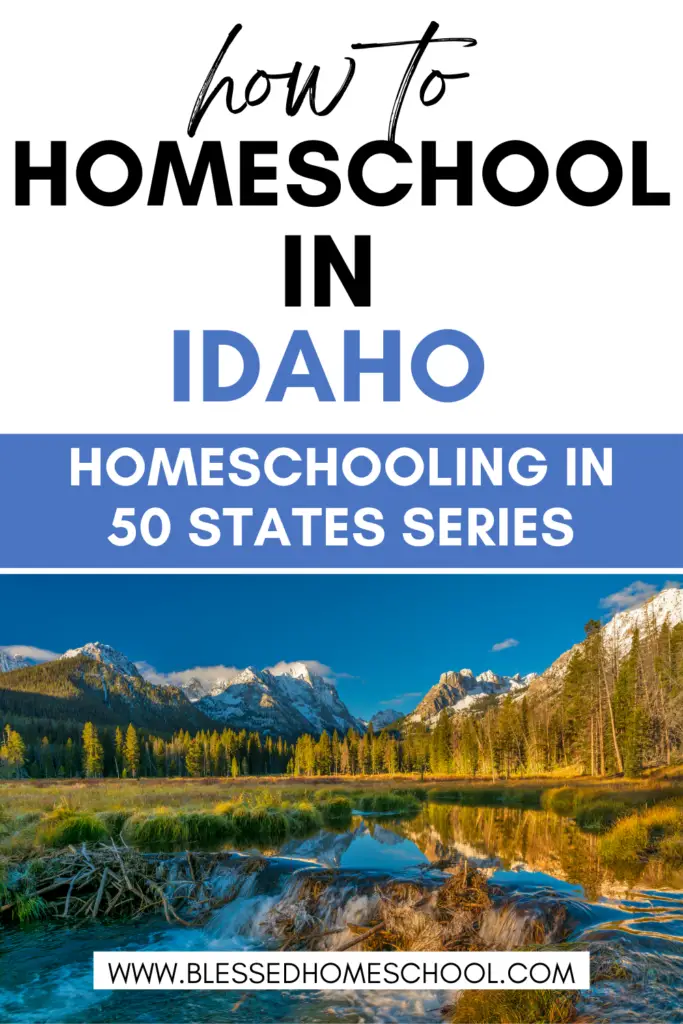 Idaho Homeschool Graduation Requirements
When homeschooling in Idaho, parents are free to select their own graduation requirements. Since private home education is an accepted form of education, parent-issued diplomas are valid as proof of graduation. The state does not issue or verify diplomas for home educated graduates. 
There are graduation celebrations for homeschooled students in various parts of the state, ranging from formal cap and gown ceremonies to close-knit dessert socials. The largest is hosted by Homeschool Idaho in Southwestern Idaho on the Northwest Nazarene University Campus. Connect with local groups to find a graduation celebration close to your community!

State universities, colleges, and local community colleges admit homeschool graduates.  Admission requirements could include a sealed transcript from the parent or SAT/ACT scores.
Idaho Homeschool Groups and Resources

Homeschooling in Idaho Field Trip Destinations
No matter what part of the state you call home, there are fascinating destinations for homeschoolers!  Here are few to get you started!
Other Resources for Homeschooling in Idaho
There you have it! And I'd love to hear from you in the comments: what is your favorite thing about homeschooling in Idaho? What groups and resources would you recommend? Let us know!
And if you'd love to have a printable resource to use to keep track of state homeschool requirements, key organizations, activities and field trip plans, and curriculum notes, grab a copy of my Curriculum & Activity Planner below (it's free!):
Interested in learning about homeschooling in another state? Check out the Homeschooling in 50 States Series.
Johanna Ireland has been on a homeschool adventure with her family in Idaho for 15 years.  She and her husband serve on the board of Homeschool Idaho.  This state organization works to inspire parents in their homeschooling and to protect homeschool freedom in Idaho.
Related Posts
Blessed Homeschool is a participant in the Amazon Services LLC Associates Program, an affiliate advertising program designed to provide a means for sites to earn advertising fees by advertising and linking to Amazon.com. You can read my full affiliate disclosure HERE.