Homeschooling in Colorado: How To's and Top Resources
Just so you know, this post contains affiliate links. That means if you use them to make a purchase, I may earn a commission. You can read my full affiliate disclosure HERE.
Whether you're considering homeschooling in the state of Colorado or well into the trenches of your journey, let me offer a word of encouragement: You are not alone. This article will offer an overview of what homeschooling in Colorado entails: how the law works as well as where you can go to find the resources you need to succeed.
Colorado is an incredible place to homeschool. As a homeschool graduate and native Coloradan, I have vivid memories of the countless opportunities for growth, community, and learning that Colorado's homeschool community offers. I was certainly never lonely, and if anything, it was challenging to determine how to best invest my time.
Whether it was history class with a local pastor, P.E. at the park with other homeschool families, or the annual CHEC conference, the community and resources that Colorado's network offered shaped who I am today. I'm convinced there's no better way to grow up.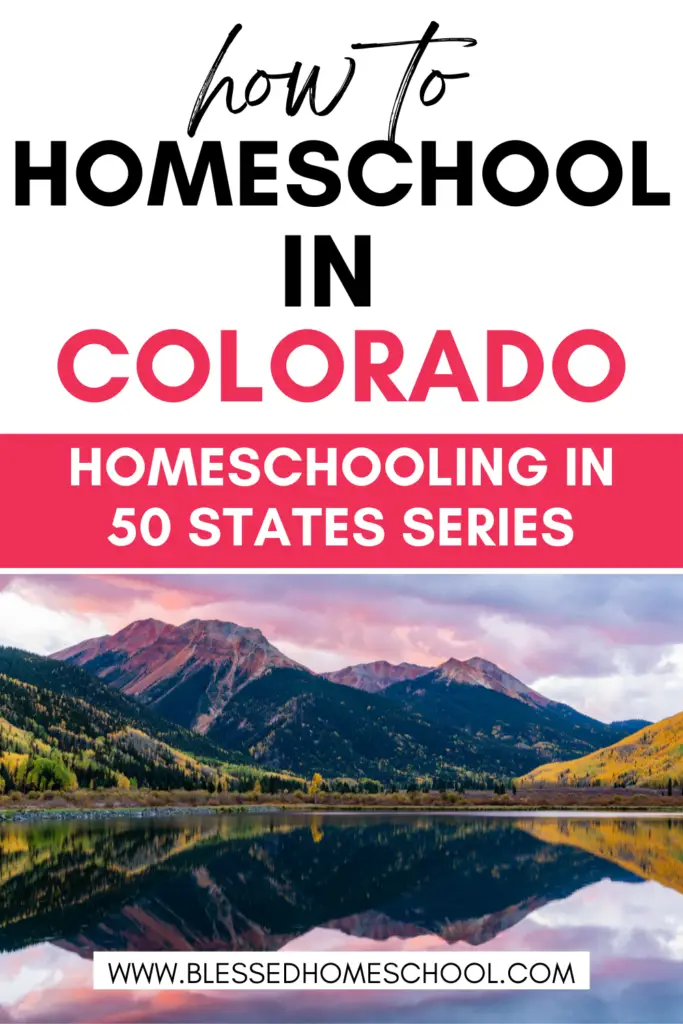 Colorado Homeschool Law
Let's take a look at some of the Colorado homeschool legal requirements for your student's education. Please not that this is not to be considered legal advice, but should give you a good overview of the state laws.
Home-Based Education Law (NOI)
There are three options for homeschool families under Colorado law. First of all, the Colorado homeschool law, "the home-based education law," requires you to file a Notice of Intent (NOI) with a local school district annually (and if it's your first time, at least 14 days prior to beginning school). Under this option, compulsory attendance requires that you file once your student turns 6 (by August 1) until they turn 16. You can view a sample letter of intent here.
There are three basic recording-keeping requirements under the home-based education law. You must keep immunization records, attendance records (number of attendance hours), and assessments (test scores or evaluation results) on file. Your educational homeschool program should include at least 172 days of instruction a year with an average of 4 hours a day. Finally, homeschooled students must be assessed (either by standardized testing or a professional evaluation) by a qualified person at ages 3, 5, 7, 9, and 11.

In addition, a certain set of subjects are required to be covered in the educational program. These include communication skills of reading, writing, and speaking, mathematics, history, civics, literature, science, and regular courses of instruction in the constitution of the United States. However, your own curriculum choice is up to the discretion of the parent.
Non-Public School Law
The second option for homeschooling in Colorado is to enroll in an independent umbrella school that operates under the non-public school law (these laws can be found on the Colorado Department of Education website). Once enrolled, you do not need to submit a Notice of Intent to a Colorado school district, and instead follow the policies of the umbrella school.
There are many different Independent School options around the state; one is the CHEC Independent School.
Colorado Teacher's License
Finally, if you are a licensed teacher in Colorado, there are no requirements for homeschooling and no need to submit written notification. However, we do recommend you keep records for your own benefit.

Homeschooling Community in Colorado
Colorado is incredibly blessed to have a state homeschool organization dedicated to helping families disciple their children, Christian Home Educators of Colorado (CHEC). Since 1990, CHEC has served a number of families in Colorado through conferences, seminars, resources, legal work, and more.
Each June, CHEC hosts the Rocky Mountain Homeschool Conference, bringing in over 5,500 registered attendees last year as well as speakers and curriculum providers from across the nation. My family has attended the conference for over 20 years, and it has been a pivotal source of vision and encouragement in my journey as a homeschooling parent. CHEC is passionate about not only equipping families to homeschool with excellence but also helping them reach the hearts of their children for Christ.
In addition, CHEC keeps watch over legislative issues relating to homeschool freedom, parental rights, and religious liberty at the state capitol through the efforts of our legislative liaison and the Homeschool Freedom Team. They also provide numerous events throughout the year, including Intro Seminars, the High School and Beyond Seminar, Refresh Ladies' Day, the Father Son Retreat, the Homeschool Spelling Bee, Homeschool Graduation Ceremonies, and even the internationally-reaching HomeschoolSummits.com.
Homeschooling in Colorado: Getting Plugged In
In addition to the many resources CHEC provides, here are some ideas to get plugged into the homeschool community in Colorado:
Find local homeschool support groups that can provide you with ongoing fellowship, friendship, and encouragement with other new homeschoolers. You can search a directory of groups here to find a good fit.
If you're looking for homeschool-friendly field trips, discounts for homeschoolers, free days at zoos, museums, and more, check out the CHEC Community Calendar.
If you're looking for more opportunities to connect with other homeschooling families, co-ops, and groups in your specific area, Homeschool Hall has created a comprehensive,
FREE Homeschool Directory
that is super helpful. Homeschool clubs, tutors, curriculum stores, and sports are also listed, so you can find almost anything you need to support your homeschooling.
Colorado Homeschool Community
I was speaking the other day with a young mom just beginning her homeschool journey this school year. With the vast amount of curriculum, co-ops, online webinars, and extracurriculars for homeschool students out there, I could see in her eyes that the prospect of parenting, educating, and providing for three children and another on the way was a daunting one.
Following the Lord into the homeschool journey is not for the faint of heart, and I am daily blessed by these parents' courage.
And yet, looking back on my own K-12 homeschool education, it was not the curriculum choices, the co-ops, or the extracurricular classes that made the difference. Sometimes, there were years when we did pick the wrong curriculum.
But ultimately, that didn't matter.
What mattered was the fact that my parents had the heart to disciple us day in and day out, pointing us to Christ as they demonstrated love for God in everyday life.
That's why the community in Colorado is here. Yes, we desire to help you find the right curricula and homeschool groups and equip you to keep records and schedules in order to homeschool well. But in the end, it's reaching into the hearts of your children that counts. Knowing other homeschooling parents with that same heart makes all the difference. We can't wait to have you join us!
I'd love to hear from you in the comments below: what are your favorite resources and field trips for homeschooling in Colorado? Any tips for other homeschool moms? Let us know!
And if you'd love to have a printable resource to use to keep track of state homeschool requirements, key organizations, activities and field trip plans, and curriculum notes, grab a copy of my Curriculum & Activity Planner below (it's free!):
Interested in learning about homeschooling in another state? Check out the Homeschooling in 50 States Series.
Crystal lives in Colorado with her family. She and her husband David have three kids, and she plans on homeschooling all of her children through high school. When she isn't teaching her kids she likes to hike, do embroidery, read, write and make teaching resources.
Related Posts
Blessed Homeschool is a participant in the Amazon Services LLC Associates Program, an affiliate advertising program designed to provide a means for sites to earn advertising fees by advertising and linking to Amazon.com. You can read my full affiliate disclosure HERE.