Play-Based Learning: How to Create a Summer Full of Play
Just so you know, this post contains affiliate links. That means if you use them to make a purchase, I may earn a commission. You can read my full affiliate disclosure HERE.
Pamela Hodges is a teacher turned work from home mama. She spent 7 years in the classroom before taking a break to raise her own kids. She currently has a 4 year old and 2 year old boy. She runs the blog Little Learning Moments and is incorporating play-based learning in their daily lives. You can find her at her blog or on Instagram sharing activities for babies, toddlers, and preschoolers.
Play is important for happiness and learning. This is why I'm embracing the concept of a summer filled with play.  I have a toddler and preschooler at home but any age can benefit from play. Even adults need a break from work and time to play.
When Sara first shared about her summer homeschool series, I was excited to share some ideas for those with littles at home. We aren't officially homeschooling until the fall (homeschool preschool, here we come!), but my background is in teaching and I've been embracing play-based learning since my boys were babies.
I'm a firm believer that kids and adults need play which is why my post today is focused on how to play with your kids this summer. Playing together gives everyone a much needed break from the normal routine, allows parents to destress a little, and creates a unique bonding experience that your kids are sure to enjoy.
Below, you'll find ten ideas to get you started on playing with your kids and seeing how it can change the dynamics of your home when everyone has fun together. After all, the family that plays together learns together!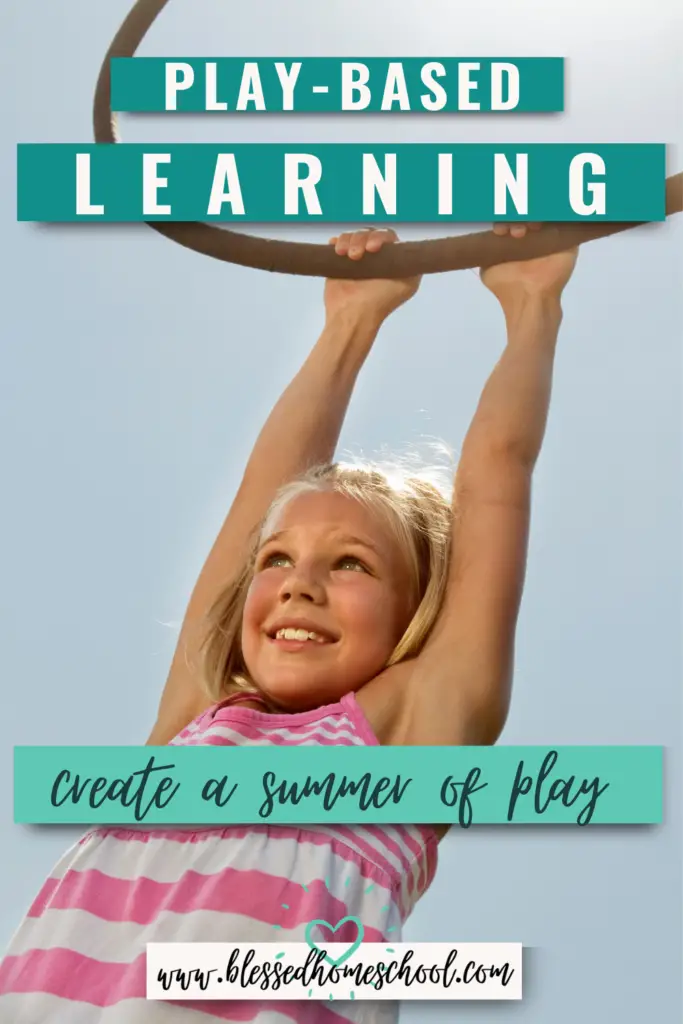 Water Play
Water play comes in so many varieties and is a fun way to play and cool off during the summer temperatures.
When it comes to water play at home, we like to set up several small pools, bins, and buckets filled with water to allow the kids variety. In addition to this, we have water squirters, water bombs, funnels, and other water friendly toys to allow for a variety of play. A sprinkler is also a fun option for at home play that everyone can enjoy.
If you're looking to get away from the house for a while, then you have several options as well depending on where you live. In our area, we have access to a splash pad, pool, water park, and beach. Any combination of these can be used to include more water play in the form of a "field trip" this summer. Remember to be safe in the sun when engaging in water play!
Outdoor Exploring
Exploring together can be a lot of fun. You can simply explore around your yard looking for unique rocks, sticks, and other fun finds. Or you can take it a step further and plan to go somewhere for your exploring.
Most states (if not all) have parks throughout that allow for hiking, biking, camping, boating, and other outdoor activities. Check the weather forecast and make sure you plan accordingly for your outing.
I would recommend having a plastic bag, container, or bucket with you since kids love to find little treasures along the way – especially if you're playing in your own yard! My son used to collect rocks on our outings. We kept a bottle inside of the door for him to put them in so that he wouldn't lose them and I wouldn't have to worry about finding them in a random spot of the house. Double check policies when you're away from home – some parks recommend leaving nature where it is and it's a great opportunity to teach kids about how nature works and why we sometimes let it be.
Exercise Together
This one may seem a bit out of the ordinary but it's actually beneficial and fun. Put on an exercise video or lead your children in exercises that you do together. You'll be teaching them healthy habits while also having fun.
I've found that there are quite a few kid friendly workout options on YouTube. A simple search for "kid friendly workout" brings up a long list of options. You can make it even more fun by picking a theme like "dinosaur kid workouts" to see what's out there. My boys have been enjoying our workout time and it's bonus movement for me too!
Pretend Play
Pretend play comes in many different forms. This could be dressing up in costumes and pretending to be someone else for a while. Or it could come in the form of serving pretend food at a restaurant. And yet, it could also look like dinosaurs roaming through the house roaring at each other.
It's truly a cornerstone for fostering imagination. Kids and adults can benefit from tapping into their imagination from time to time. 
Reading Books
At first glance, reading might not seem like a way to play together. But, if you look a little deeper, you'll find that reading is a great opportunity to play together. You can make fun sounds as you read a book about animals. You can use toys to act out different scenes in a book. Or you can use silly voices while reading.
All of these are ways that you can play while reading together. In addition to the play and bonding, you'll also be introducing your child to a love of reading by making reading time fun!
Cooking Together
This is an option that might get a bit messy. It's also another option that comes in many different forms – pick the one you're most comfortable with.
Cooking together is a great way to introduce your child to life skills while also bonding. It may not seem like play to you, but your child will view it as play. There's also the added bonus of an extra set of hands in the kitchen!
For this one, I recommend starting at your comfort level. If your kids have never helped in the kitchen, you might start by having them stir or mix something. A family favorite around here is pita pizzas where the kids get to add sauce, cheese, and their toppings of choice. Think ahead before inviting your child to help. Which meals and tasks will create the least amount of stress for everyone? 
Family Movie Night
Do you want to spend a little bit of time with your kids while still relaxing? A movie night might be a great option!
Pick out a family friendly film and make up some snacks that everyone will love. Then, enjoy a night watching a movie together. Bring out the pillows, blankets, and comfy seating for a laid back experience together.
Build Something Together
This is yet another option that has many options. Building something together could be as simple as making towers out of blocks or as complex as a woodworking project.
Again, I recommend starting small and building up to bigger projects. If you have a hobby that involves building, this could be a great way to introduce your kids to something you love.
Dance in the Rain
Last year, it was raining but my kids wanted to play outside. My husband randomly took them outside and lots of fun and laughter ensued. They hid under a tree, ran through the wet grass, and looked for little streams that had collected in the yard. They were drenched but smiling when they came back in.
Use caution when playing in the rain and keep an eye out for thunder and lightning. If the weather is warm and the sky isn't noisy, then it's a great time to have fun with the rain. Don't forget to have the towels ready for when you're done playing!
Clean Together
Bear with me – I know this one is going to sound like the craziest idea of all. Take a moment to remember that work for us often looks like play to our kids.
Wiping the window down with a wet rag or hosing down the outside furniture seems like a fun way to play for our kids. This is why I included it on the list. My boys love helping with the cleaning when I let them. I often have to go behind them and fix some mistakes but I love that they're learning how to clean and they feel accomplished that they helped out.

Think outside the box this summer and get the kids involved in a little cleaning. (Side note: Age will play into this one and how willing they are to help.)
Let's embrace play this summer.
I hope this post has given you a few ideas of how you can embrace play this summer. Instead of asking yourself how you can keep your kids busy, try asking how you can encourage them to play.
Look at the world through their lens and think about the many opportunities for play during the day. And most of all – don't forget to include yourself in some of that play! Playtime can be beneficial for the whole family!
This guest post is part of the Homeschool Summer Fun Series. Make sure to check out the series landing page to learn more about the series and find all of the posts in one place!